Thursday, September 20, 2012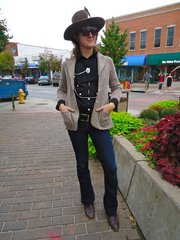 Name: Matthew Paige
Age: 22
Relationship status: No comment
Hometown: Nashville, Tenn.
Time in Lawrence: One day
Occupation: Musician
Dream job: Musician
What were you doing when scouted? Just walking down the street
Describe your style: American, western, cosmic Indian hawk
Fashion trends you love: American flags, feathers in hats, Zubaz pants, '70s running shorts
Fashion trends you hate: TOMS shoes
Fashion influences: Gram Parsons
What would you like to see more of in Lawrence? So far, I've liked Lawrence a lot. Maybe more record shops and more music stores in general. Also, goofy dogs.
Less of? TOMS
Tattoos or piercings? Two piercings in my left ear
Who do people say you look like? Keith Richards
Tell us a secret … I was a tap dancer.