Friday, September 21, 2012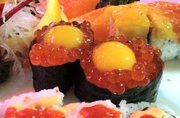 A spoonful of silky, salty, orangey-red salmon roe (i.e.: eggs) over sticky rice, with a loop of nori to hold the piece together (that's the dark-green seaweed you'll find around sushi of most any variety). Ikura nigiri is an example of gunkan-maki, or battleship, style sushi.
Where to get it: Wa, 740 Mass.
What you'll pay: $5 plus tax for two pieces.
Try it with: Uzura — raw quail egg — on top (pictured). Like runny eggs on top of your toast? Kind of the same idea.
Also on the menu: More nigiri (smelt roe, octopus and various types of fish, to name a few), house specialties such as Dol Sot Bi Bim Bob (a Korean dish of vegetable and beef served over rice in a hot stone bowl) and dozens of specialty sushi rolls. Wa's best-seller is the Kansas Roll — it's a little spicy, a little crunchy AND it's served on fire.
— Off The Beaten Plate highlights some of the more exotic, oddly named or inventively concocted (for better or worse) dishes from local menus. Know of an offbeat menu item we should check out? Email food and features reporter Sara Shepherd at sshepherd@ljworld.com. Tweet her at Twitter.com/KCSSara.