Sunday, September 23, 2012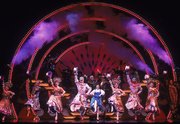 If you're looking for something different in the way of entertainment this fall, you shouldn't have any trouble finding it at area theaters.
Time-traveling space aliens and a handsome prince transformed into a hideous beast invade the Lied Center. Theatre Lawrence is alive with the sound of music in World War II Austria and harassed secretaries in the era of "Women's Lib." Fairy-tale characters and Alfred Hitchcock take the stage at Kansas University Theatre. And old classics "The Nutcracker" and "Threepenny Opera" find new interpretations at the Lawrence Arts Center.
In fact, taking something familiar and making it new is a broad theme among the shows being staged this fall. Take Kansas University Theatre's production of "The 39 Steps" for instance. The play is based on the 1935 Alfred Hitchcock film, which is itself adapted from the 1915 John Buchan novel. Both the novel and film are serious spy stories. The play is not.
The plot is largely unchanged, but the entire cast of 140 characters is played by just four actors.
One man plays the hero, Richard Hannay. One woman plays the three women with whom he has romantic entanglements. Two other actors play every other character, including inanimate objects.The result is the need for lightning-quick costume changes and actors often playing more than one character simultaneously. The whole thing is played for laughs, and there are allusions to other Hitchcock classics, including "Rear Window," "Psycho," "Vertigo," and "North by Northwest."
"'The 39 Steps' ... is as much a celebration of the art of storytelling as it is a thrilling and comical adventure," says Alex Espy, the guest artist who will be directing the show for University Theatre. "Imaginative staging creates everything from dangerous plane crashes to exhaustive police chases."
Adapted for the stage by Patrick Barlow from a concept by Simon Corble and Nobby Dimon, "The 39 Steps" won two Tony Awards in 2008 and is quickly becoming a comedy classic. It runs Oct. 12, 13, 14, 18, 19, 20 and 21 in the Crafton-Preyer Theatre.
Speaking of old ideas being new again, EMU Theatre is presenting its sixth annual Halloween play festival. Horrorshow VI will feature six short plays by six local playwrights. All of them will have something to do with zombies, and some of the plays are, ahem, resurrected from past installments of Horrorshow, so there will be a mix of new scares and old delights.
Dean Bevan wrote and will be directing one of the new pieces, "Grim Reaper," which features a nice, old couple that completely mistakes Death for an ordinary visitor.
"I thought it would be funny to have the Grim Reaper appear as an unintentionally (for him) comic figure instead of the conventionally terrifying image of Death," Bevan says of casting the traditional character in a new light. "They're so hard of hearing they mistake everything he says."
The festival runs Oct. 19, 20, 21, 26, 27, and, of course Halloween night Oct. 31 in the Black Box Theater at the Lawrence Arts Center, 940 N.H.
There's more than monsters and murder this fall. The "tale as old as time" comes to Lawrence when the Lied Center presents "Disney's Beauty and the Beast" on Dec. 12. This one is a doubly new interpretation of an old story. The classic French fairy tale was given new life by Disney animators in 1991, becoming one of the venerable film company's biggest hits. Years later, Broadway adapted the film to the stage, adding new songs penned by original composer Alan Menken and bringing in Tim Rice on lyrics to replace the late Howard Ashman. Featuring new songs like "Home" and "If I Can't Love Her," and beloved classics like "Be Our Guest" and "Beauty and the Beast," the result is an extravaganza that feels fresh and familiar at the same time.
And for those seeking traditional family fare, Theatre Lawrence presents "The Sound of Music," declaring it "the world's most beloved musical." They just may be right. Rodgers and Hammerstein based their 1959 musical on the true story of a family of singers that fled Nazi-controlled Austria shortly after the Anschluss. The 1965 film starring Julie Andrews and Christopher Plummer remains popular to this day.
— Read more about the local theater scene at John Phythyon's blog at http://www.lawrence.com/weblogs/centerstage/.