Sunday, September 23, 2012
Over the next year, a Polish ceramist and a Minnesota printmaker will live, work and share their crafts in Lawrence.
Not only does the Lawrence Arts Center's Artists in Residence program provide a chance for these artists — both fresh out of graduate school — to build their bodies of work and segue into the professional world, it also gives Lawrence community members an opportunity to learn from their expertise.
Arts Center Executive Director Susan Tate says the annual residency programs have become key to the center's three mission areas: contemporary exhibition, performance and arts education.
Both of this year's artists have won extensive honors for academic and artistic work, and assembled impressive numbers of exhibitions, Tate says, "but it was their desire to be part of a creative community as working artists that caught our attention."
Patrick Vincent
Printmaker Patrick Vincent's work warps the idea that the art form is exclusively flat.
In one of the Minnesota native's latest exhibits, large-scale woodblocks — instead of prints created with them — join cut paper and string in a full-room installation.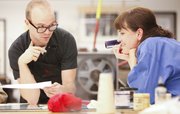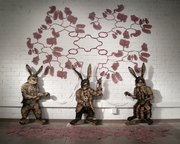 "It's conceptually printmaking," Vincent says.
The woodblocks of "Read in Tooth and Claw" are oversized, personified animals, reminiscent of children's storybook characters but rendered in black-and-white detail not unlike prints of the Dark Ages. The work is a little bit whimsical, a little bit spooky. Vincent was fascinated by dark folk stories and fairy tales as a child, and their tone and messages inspire his work.
"There's a certain level of humor because they're meant for kids, but they're also really creepy," he says.
That's not to say Vincent doesn't do flat prints, too — mostly woodcuts and intaglio.
In Minneapolis, where he grew up, Vincent worked at the Minnesota Center for Book Arts, teaching printmaking, paper making and bookbinding to adults and children. His undergraduate degree is in cultural studies, and he says the art of printmaking met a lot of his intellectual interests. Vincent received his master's degree in printmaking at Arizona State University.
In the spirit of connecting art with real people, one of his current projects in progress is a back-and-forth that results in images of people's faces on bugs of their choosing. Community members can submit their photo and the species they'd like to be depicted as. Vincent says he'll give each participant a print and save the linoleum carvings for a later installation.
"The theme of bugs is an invitation for people to connect with a part of the natural world that is often ignored or reviled," he explains on his website.
That type of community outreach is part of the reason the Arts Center chose Vincent as an artist in residence, Tate says.
"One of the strengths he brings to our studio is that he ... conveys tremendous enthusiasm for connecting with community through printmaking, as evidenced by a history of interactive projects," she says.
Monika Laskowska
Many of Monika Laskowska's clay creations take the form of familiar, functional, household items: soup bowls, teacups, platters, vases, ashtrays, ladles.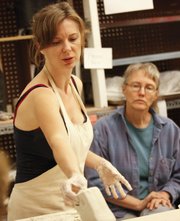 More at the Arts Center
For a list of fall exhibits, performances and classes at the Lawrence Arts Center, see lawrenceartscenter.org or visit the center at 940 N.H.
But the teacups are pricked with holes, vases are upside-down, and ladles are lined up with dozens more just like them, more than one could ever use in real life.
Laskowska says her work represents a contradiction of permanence — changes to the things we know — and that her own life has been her inspiration.
She grew up in Poland. She's lived in Bulgaria, Ireland, then Columbus, Ohio. And now she's here in Lawrence.
And she doesn't know where she'll be next.
Her existence is far from the definition she knew as a child, working in her parents' garden and baking in the kitchen with her grandmother in a country where multiple generations of her family before her lived.
"My home is probably never going to be what I thought home was supposed to be," she says.
"There's a lot of tension in my work, and it stems from these contradicting emotions."
Laskowska's unpainted clay vessels are hand-built, and the ones that start as molds eventually are manipulated by hand so that each piece is unique. Her latest body of work, titled "A state in which the opposing forces are not equal and don't cancel out each other," features graceful, organic bowl- and teacup-like forms with colander-like holes in circular patterns.
Laskowska has taught before, both English (her first degree) and ceramics (her master's degree). For college classes, she followed a set curriculum. At the Lawrence Arts Center, she says, many of her students are experienced, arriving with their own ideas and a drive to learn new techniques.
"Here, people come because they want to learn," Laskowska says. "I feel it's more of an exchange than being a person of authority."
Tate says the Arts Center expects Laskowska to have a lot to offer.
"Her enthusiasm for working in the studio with students of all ages and backgrounds was engaging," she says, "and combined with her technical expertise as a ceramics artist and her interest in taking her own work to the next level make her a perfect fit."