Sunday, September 23, 2012
Several months ago, we decided it was time to bring to you, the reader, an exciting new section of the Journal-World that delivers more news about Lawrence's vibrant arts and entertainment scene.
The result is what you're holding in your hands: Lawrence.com. In print.
This isn't a reincarnation of the old Deadwood edition that many readers may remember fondly. And this section is not an exact mirror of the Lawrence.com website.
This new section's purpose is to tell you about the most interesting events in Lawrence and throughout the area, highlight the local restaurant scene, explore the artists and innovators that excite our senses, and bring you more information to whet your cultural palate.
In this inaugural edition, we profile Monika Laskowska and printmaker Patrick Vincent, the Lawrence Arts Center's talented artists in residence. And John Phythyon takes a look at the fall theater season, which includes Theatre Lawrence's "The Sound of Music" and the Kansas University's "The 39 Steps."
And be sure to check out our fall arts guide, something we think you'll want to hang on to as the leaves turn color and the best of fall's arts and entertainment events approach.
You'll also notice some new features, and some features that are familiar, whether you take your news in print or online.
We're doubling down on our popular Best Bets blog, adding it in print to highlight must-do events from Sunday through Wednesday. Our picks for the weekend can be found online at Lawrence.com.
We'll also tell you about features worth checking out that you'll only be able to find online, so look for the circular L.com logo that signifies there's more to find at Lawrence.com.
On the back page of this section, you'll find a comprehensive list of events for the entire week, as well as Sunday's television listings (which will appear on the Journal-World's Weather page every other day the week).
From our Food section, we've poached two features: Off the Beaten Plate, Sara Shepherd's fun take on adventurous menu items at area restaurants, and Chad Lawhorn's Town Talk column, which reports on the latest local business and restaurant news.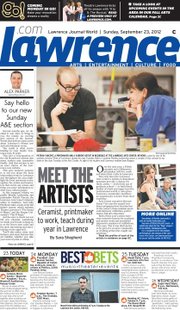 We've also moved some longtime features out of the Sunday entertainment section. You'll now find Style Scout in Go! magazine, which runs every Monday. Faith Forum has moved to Saturday's Society page, and the Home & Garden page will begin appearing in Thursday's edition of the Journal-World.
In the coming weeks, we'll be rolling out more features, including a column about Kansas City events; Lawrence Libations, about interesting drinks you can find at local establishments; a feature we're calling Gallery, which includes user-submitted photos from social events like charity fundraisers, tailgates, theater performances and more (to submit a photo, email us the image and a caption at aparker@ljworld.com).
Also, film critic Eric Melin will bring his Scene Stealers column to the revamped section, highlighting local film news and must-see new releases.
And, of course, we'll continue publishing familiar features such as Arts Notes, Behind the Lens, Artist Portrait and more here in this section.
We're excited about this new section, and we hope you are, too. Please visit us at Lawrence.com, find us on Twitter (@Lcom) or on Facebook (facebook.com/lawrencekansas). And feel free to drop me a line with any feedback.
Thanks for reading.