Monday, September 24, 2012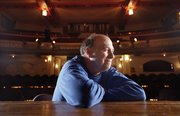 Concerts are great fun. You buy your tickets, you listen, you leave. If the show was awesome, the band gets credit.
But behind many successful concerts are great venues and behind these venues are people like Rob Fitzgerald.
Fitzgerald is the event manager and technical director for Liberty Hall, 644 Mass. Simplified, he schedules and manages the 100 or so events the venue holds each year.
"It's not a super-secret fantastic job where we are making big piles of money or anything, but it's a good place to come to, you know?" he said. "It's not a regular office job. At the end of the day, everything we do is a positive thing, you know? It's entertainment. We like to entertain and entertain everybody."
While part of his job involves being on hand for all of the concerts and shows, managing and technical directing is no walk in the park. He said it's mostly about attention to detail.
"It is an offbeat occupation," Fitzgerald said "Within those two little headings there's about 2 million other tasks."
Fitzgerald opens the doors before the concert, runs the lighting during the concert and takes out the trash when everyone goes home. He's a hands-on boss.
"I like to be involved. I take tickets when someone needs help. I don't mind picking up a broom and sweeping up afterwards. We pride ourselves on being clean and helpful and nice all the time. It doesn't clean itself."
Talking with Fitzgerald, it's easy to forget how stressful such a complicated job can be. He's laid back, laughs constantly and seems closer to the guy outside waiting in line than the man running the place. He takes five minutes to figure out an aspect of his job he finds difficult: the fast pace.
"If you get out of a concert at 11 o'clock, you get out of the show you get to run out for a cocktail. I don't," he said. "But is that a difficult part of the job? Well, get over it."
It's easy for Fitzgerald to brush off the hard parts because to him, his job is more of a love song to Liberty Hall than a way to pay the rent.
"This joint has always had a special place in my heart," he said. "My first day of college I came here to see Son Seals Blues Band, and that was 1980 when I was 18 years old. By following my passion of being involved in music and theater, I wound up manager of this great joint that I fell in love with my first day of college."
Fitzgerald and Liberty Hall have a long history together.
He helped remodel the place in 1984. He later got a job working lighting in 1998. Fitzgerald kept moving his way up until he took his current position.
While he enjoys what he does, he said it's working the lighting for events that really keeps him coming back.
"I got to light Eminem to Joan Baez to Patti Smith to Nickel Creek. For me that's been the kind of cool part, the little secret. I'm known as the guy who's in charge of Liberty Hall, but I really would like to be known as the light man at Liberty Hall because that's my passion."
Working at a place that has seen numerous concerts, weddings and events over his 25 or so years, Fitzgerald has witnessed some crazy stuff. And while he did not want anything negative he's seen to show up in print, he did share one of his favorite experiences.
"One of the things I think about is doing the lights for Joan Baez and she sang that song 'Joe Hill,' and I'm at work and I'm in the middle of the theater and I'm a grown man, and I got tears going down. You're a grown man, you're supposed to be hard and at the light board. I have been moved to tears here so many times."
Besides amazing concerts and running lights, Fitzgerald is happiest when Liberty Hall is full and running like a well-oiled machine.
"I love it when it's bursting out the seams with people and the band's playing way too loud," he said. "It's a positive place and it's positively seen, and we want to project that joy."