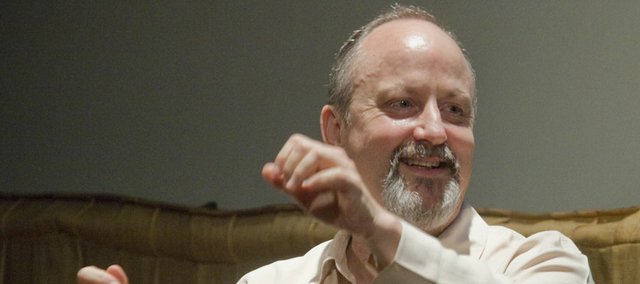 Thursday, September 27, 2012
Who are your people?
Lawrence Public Library director Brad Allen engages an author with that question. It's an important one in small-town life, especially in the Missouri Ozarks, where folks still spread the gossip of 1947.
The author, grim but funny, plainspoken but well-read, answers that his family has lived there since there were European families there. He can trace his connection to 1838. There's an audible "wow" from somewhere in the audience, but that's just life, nothing shocking if it's how you grow up.
Meet Daniel Woodrell. In many ways, he's the sum of his "people."
Read Across Lawrence events
Read Across Lawrence events
• "Winter's Bone" screening
11 a.m. Sunday at Liberty Hall
$6 for film only; $12 for film and brunch
• Virtual talk with Marie Rutkoski, author of the kids' pick, "The Cabinet of Wonders"
10:30 a.m. Saturday at the library, 707 Vt.
• All-ages trivia
2 p.m. Saturday at the library, 707 Vt.
Woodrell spoke with Allen at Liberty Hall on Thursday in front of about 150 people who gathered to hear the "Winter's Bone" author discuss everything from tribal mentality to moonshine to Renoir.
"The only things that are important in life are the things you remember," Woodrell said, paraphrasing the painter on why his books often have abrupt tonal shifts.
Alan Lichter was one of Woodrell's people, in a way. Not family, of course, but a big influence while Woodrell was an undergraduate considering play writing. Lichter was — and still is, in emeritus — a creative writing professor at Kansas University who Woodrell said got him to write, teaching him "90 percent of the technical things I learned." Lichter also told him, Woodrell said, that "straight" blue-collar realism would be "a tough row to hoe" in pursuing a career. So Woodrell eventually mixed in genre elements — especially crime. Nine books later, the award-winning author has been called one of the best-kept secrets in American literature.
"Winter's Bone," his novel about a young girl's quest to find her meth-producing father, was the 2012 pick for Read Across Lawrence, a program organized by the Lawrence public and KU libraries. An earlier book, "Woe to Live On," features the Border War and Quantrill's Raid, a source of a joke for Allen regarding bringing a "Missouri writer" to Liberty Hall.
But Woodrell is not engaged in the lives of those he writes about so much as he's empathetic to them, aware they may do horrible things but that they remain human. His grandfather was an alcoholic, he explained, and though he never knew him, he thought he saw his memory in those who struggle.
He talked about his family more. Money was tight, but the value of education was deeply understood. His mother, still alive and still, like him, living in the Ozarks, encouraged him to read Mark Twain. That got him on a road of wanting adventure.
"I think it'd been awhile since she read Mark Twain," he joked.
More like this story on Lawrence.com