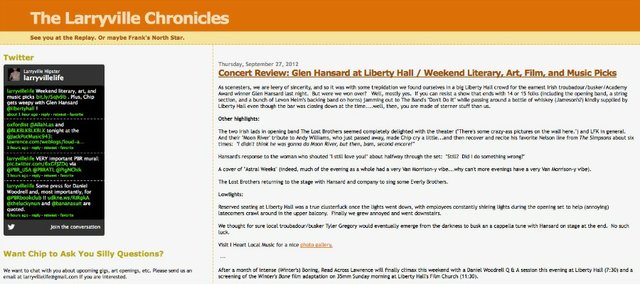 Friday, September 28, 2012
If you like your local commentary seasoned with wit, sex and booze, look no further than the Larryville Chronicles, happily residing on Blogspot after all these years.

Featuring the hazy musings of Lawrence caricatures Richard and Chip ("a rube who's skeptical of the scenester-hipster scene," said Richard), Larryville Chronicles reveals the lighter side of hipster life in Lawrence, from interviews with local and touring bands; event picks; featured comments from LJWorld.com; a celebration of local causes, from PBR Book Club to Nerd Nite; and more.
The blog's evolved over the last three or four years to be more of an arts and entertainment hub. And being named best blog is icing on the cake. At least for Chip.
"People will buy me a whole lot of PBR after all this," he said.
Runners up
• I Heart Local Music, iheartlocalmusic.com
• Mrs. Mass, mrsmass.com
More like this story on Lawrence.com