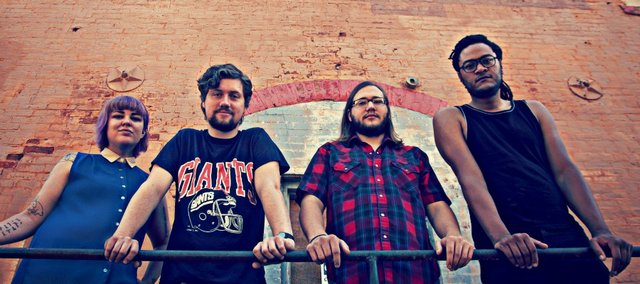 Friday, September 28, 2012
Cowboy Indian Bear is an indie band of the 21st century — deep local ties and solid support, but also a keen eye to digital self-promotion and a willingness to experiment.
The band started in 2008 with C.J. Calhoun on guitar and vocals, Beau Bruns on drums and backing vocals and Marty Hillard on vocals, guitar and bass. Later, Katlyn Conroy joined on keyboard and vocals.
They've described their "sprawling, ambitious sound" as having "featherweight melodies, ghost-like echoes and whirring rhythms" to "create an ethereal celebration." But here's what they are: really smart pop.
They're signed to Kansas City label The Record Machine, and Hillard says they've got big plans in the works. They regularly, tirelessly tour the Midwest, and late last month they finished a stint around the East Coast and through much of the South.
On top of that, they're in the mastering stage of their second full-length album, which is "starting to get some legs nationally," Hillard says, adding that he's "plotting and scheming some fun things" for the release early next year, though keeping mum on exact details.
On Oct. 2, they'll start another tour in Wichita, heading to Texas and then back through Oklahoma.
Runners up
• The Alferd Packer Memorial String Band, alferdpackerband.com
• Sellout, selloutlive.com