Sunday, September 30, 2012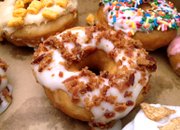 There are two kinds of people: those who like mixing their meat and syrup on their breakfast plate and those who like keeping them far, far apart. If you fall into the former category, then this donut's for you. It has maple frosting with crumbled bacon for sprinkles.
Where to get it: Hurtz Donut at the Saturday Farmers' Market, 824 N.H., from 7 a.m. to 11 a.m.
What you'll pay: $2
Try it with: Coffee or milk, obviously. And maybe a second donut so you can try more than one kind.
Also on the menu: Only donuts, but lots of flavors and some vegan options. Bryant Bickel — the guy working overnight every Friday to make all these — says popular sellers lately include Butter Pecan, the Thai-inspired Jacki Becker (peanut butter-sriracha icing with toasted coconut, named for the friend who came up with the idea) and the EribearNut (sea-salt chocolate with caramel, named for another friend). Hurtz Donut also has a cereal line, donuts frosted and topped with Cap'n Crunch, Fruity Pebbles or Cinnamon Toast Crunch.
Website: Hurtz Donut
— Off The Beaten Plate highlights some of the more exotic, oddly named or inventively concocted (for better or worse) dishes from local menus. Know of an offbeat menu item we should check out? Email food and features reporter Sara Shepherd at sshepherd@ljworld.com. Tweet her at Twitter.com/KCSSara.