Sunday, September 30, 2012
John Sebelius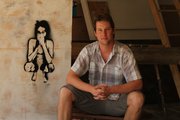 Four years removed from marketing a controversial board game that drew national headlines, John Sebelius has moved into the world of clothing lines, 2-D, film and sculpture. This summer he released a documentary, "Searching at Sturgis," and a series of vignettes, "71st Annual Rally."
His clothing line, Gillius, features limited-edition prints of sketches for men and women. He earned a master of fine arts from Kansas University this past spring and says his art invokes "people whose stories deserve an audience," the result of growing up in a household of progressives.
All this, he hopes, will create discussion around America's marginalized communities.
Next up is a documentary about the California community Slab City, made of old World War II-era Army barracks.
"I think it's best for me to stay busy," Sebelius says of his variety of art. "If it's something that intrigues me, I jump into it. I'm not one to be just into one thing — I get bored."
Runners up
Molly Murphy, mollymurphyartwork.com
Stan Herd, millermeiers.com/stanherd