Sunday, September 30, 2012
Sandbar
17 E. Eighth St., thesandbar.com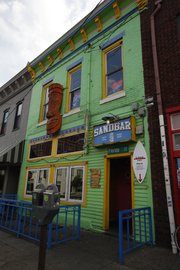 Every tropical drink comes with a toy. The building is lime green. There are hurricanes — if you miss the nightly 10 p.m. storm, you can buy one on command for $20. You can dance on the bar (in a mermaid costume!).
Among the dollar bills and plastic sharks, there are pirates on the walls with quotes that are a bit too salty to print. There's a jukebox. There's a good chance Lawrence's Best Bartender, Dave Johanning, is pouring your drinks.
And if all that's not enough to keep you entertained, there are two tanks of live fish to watch.
Suffice to say, there's no place like Sandbar — especially not in Kansas.
Runners up
l Red Lyon, 944 Mass.
l Replay Lounge, 946 Mass.