Sunday, September 30, 2012
Bill Self
Head coach, Kansas University men's basketball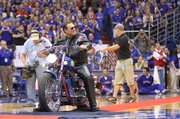 Lawrence has been home to many legendary figures, and, not surprisingly, many of them made their names on the basketball court — Naismith, Chamberlain and Allen, to name a few. They've all passed through Lawerence and left legacies nearly impossible to match.
But Bill Self, the beloved and charismatic Kansas University men's basketball coach, has already carved out his place in Jayhawk history.
Entering his 10th year at KU, Self has led the Jayhawks to a 269-52 record, dropping just seven games at Allen Fieldhouse. A national championship in 2008 — and another appearance in the title game last season — solidified his place in Jayhawk lore.
But Self's place in the Lawrence community extends beyond the hardwood. In 2006, he and his wife, Cindy, founded the Bill Self Assists Foundation, which helps disadvantaged children through educational and athletic initiatives.
Since its founding, Self's foundation has contributed more than $300,000 in grants, initiatives and scholarships to schools in Lawrence and Kansas City, Kan.
Runners up
l Don "Red Dog" Gardner
l Hank Booth