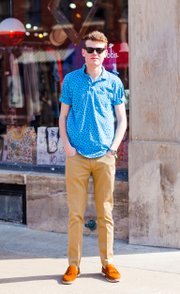 Name: Curtis Gannaway
Age: 19
Relationship status: Single
Hometown: Topeka
Time in Lawrence: One year
Occupation: Finance student
Dream job: Creative director
What were you doing when scouted: Heading to get some coffee with a friend
Describe your style: I really like classics. I'm on a budget so I try to find what is within budget that is still street style. I follow a lot of blogs like The Sartorialist.
Fashion trends you love: Right now, I really like a mix of high fashion and vintage clothing.
Fashion trends you dislike: Camo
Fashion influences: Mostly from street blogs like Jack and Jill and The Satorialist
What would you like to see more of in Lawrence: More creativity and people who care about what they wear
Less of? Dyed hair
Tattoos or piercings: None
Whom do people say you look like? A model
What type of music do you unwind to: Jazz
Tell us a secret… I'm a black belt in taekwondo.
More like this story on Lawrence.com