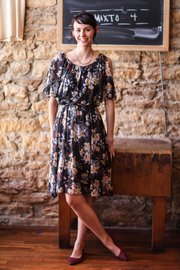 Name: Josie McCoy

Age: 23
Relationship status: Iffy
Hometown: Overland Park
Time in Lawrence: Four years
Occupation: Server and hostess at 715
Dream job: I'm going to open a half-vintage and half ready-to-wear shop.
What were you doing when scouted: I was finishing up my shift at work.
Describe your style: Today is like '70s waitress, I guess! Normally, it's '60s French girl.
Fashion trends you love: Fur, geometric prints, cut-out sundresses, pretty much anything '60s patterns. I really like full chains, tropical prints and Hawaiian shirts.
Fashion trends you hate: I pretty much can agree with any fashion trend as long as it's different, new and innovative.
Fashion influences: I watch a lot of old movies, French foreign films, and people on the street.
What would you like to see more of in Lawrence: Men wearing fur coats!
Less of? Maybe Nike running shorts.
Tattoos or piercings: Yes, both.
Whom do people say you look like? My sisters!
What type of music do you unwind to: It depends on the day. Anything electronic.
Tell us a secret… I always wanted to learn how to be an aerialist.
More like this story on Lawrence.com