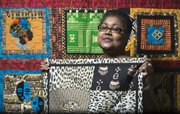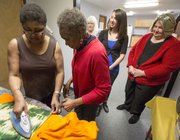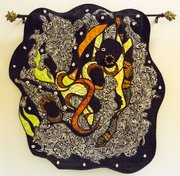 Artists need vision — and local artist, quilter, historian and teacher Marla Jackson has big ones.
She has a vision for each of the quilts she creates, she has a vision for the community in which she lives, and she has a vision for her new textile academy and African-American museum that recently opened in the Warehouse Arts District, Marla's Quilts at 720 E. Ninth Street, No. 2.
"This is the beginning of a new time for the Lawrence arts community," Jackson says.
It is a community Jackson has been a part of since 1997 when she first learned to quilt.
"Quilting allows me to access a place deep within my soul," says Jackson in her artist statement. "I am a quilting poet, whose intention is to provide opportunities to challenge common beliefs, promote questioning, and to inspire others to change their world to be a better place for all people."
In the 15 years Jackson has been at her art, she has developed a national reputation. Several of her quilts are now in museums including the Spencer Museum of Art and the Anacostia Community Museum, which is part of the Smithsonian. Jackson's brother, Maurice, who recently arrived in Lawrence to help his sister launch her new gallery, is accustomed to seeing her work in his adopted home of New York.
"I went to an exhibition of folk art at Lincoln Center," Maurice says, "and there was one of her quilts, center stage!"

'Because I care'
But Jackson isn't just a talented artist adept at telling stories of African-American history — she is a committed teacher, dedicated to sharing her passion with others. Over the years, she has worked with numerous community groups, from older adults at the Douglas County Senior Center to at-risk youths.
"I call my class (for at-risk kids) boot camp," Jackson says. "I want kids nobody else wants. I want the kids who think nobody cares about them. I want them because I care."

Jackson tells a story about one of her students, a talented and prolific artist who found himself in legal trouble.
"His parole officer asked me to show up for his hearing," Jackson says. "The officer knew that I was one of the few people he would work for."
Jackson has also worked with students at Liberty Memorial Central Middle School through the program Beyond the Book, in which the students tell stories through quilting. "The kids took information about an aspect of the Civil War and worked on a different part of the quilt," she says. "Everybody got to give their perspective. The story was told through their eyes."
The result is a quilt hanging in Jackson's new gallery.
Her new space also includes many of Jackson's works, including a piece inspired by Harriet Tubman.
"I am particularly drawn to stories and images depicting slavery and freedom, specifically as it resulted from efforts of the Underground Railroad," she says in her statement.
Her next project is another collaboration with students: a quilt commemorating the 150th anniversary of Quantrill's Raid. With assistance from her 80-year-old mother, Fern Hale, who dyed fabric to look like fire, Jackson imagines that it will be a three-dimensional piece, "with flames literally coming out of the quilt," she says.
Of course, she's not exactly sure what the end product will be because she doesn't use patterns when she's creating.
"My quilts just happen," she says.
'Community space'
Jackson's approach to quilting is much like her approach to her new gallery space in the Warehouse Arts District.
"I see this as a real community space," she says, "a place for poetry slams for high school students, a place for comedy nights, stage readings, fashion shows, community cook-offs and jazz ensembles."
And for Jackson, there is little doubt that it will happen.
"I'm an American," she says, "not an American't!"
"I think it is amazing that she has found that space," says Susan Earle, curator of European and American Art at the Spencer Museum. "Not only does she have a lot of energy and interest for narrative storytelling and quilt making, she is really good at bringing people together."

But Jackson's vision, like the vision she needs to create her quilts, requires commitment and creative energy.
"I know it's a struggle for Marla to keep the place," Earle says, "but I think it's important to have a space for people to come work so they can see what she and others have created. I think it can help expand their dreams."
Jackson is reaching out to the community for support. This Saturday night she is hosting a rent party for those 21 and older. The gallery will open at 8:30 p.m., and for a fee, guests will be entertained with live music, dancing and socializing.
"It's an old-fashioned Harlem Renaissance Rent Party," Jackson says.
Earle has been a frequent visitor to Jackson's gallery and is hopeful about its future.
"It's really a special place," she says, "It is a space that is sort of a new concept that grows out of (Jackson's) artistry and grows out of her work and her commitment to the community."