NUTRITIOUS
Garlic is one of those ingredients I never ate growing up but I couldn't imagine my life without now.
I may be wrong, but I suspect that I've probably had garlic every day for the past 10 years. This is despite the fact that I don't believe in vampires. I mean, if I did, I'd be all garlic necklace all the time, but instead I'd rather enjoy garlic's lovely benefits in my body, not on it.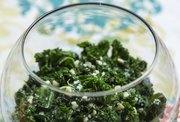 Yes, because though I might kid a bit about vampires, garlic is no laughing matter when it comes to your health. It's a member of the allium class of vegetables (also included: onions, leeks, scallions), which, studies suggest, "may reduce the risk of developing several types of cancer, especially cancers of the gastrointestinal tract," according to the National Cancer Institute. In the Iowa Women's Study, a large study investigating diet and other risk factors related to cancer, it was found that women who consumed the highest amounts of garlic had a 50 percent lower risk of cancer of the distal colon. Other cancers it's been shown to lower the risk factors for include esophageal, stomach, prostate, pancreas and breast cancer.
Though it's unknown how much garlic you actually have to ingest to lower your personal risk of cancer, all these studies seem to suggest that it's something that would be good to add or increase in your daily diet.
Health benefits aside (though it's hard to put them aside given what they are) garlic is pretty gosh-darn tasty, too. It kicks up any dish or appetizer, in my humble (adult) opinion. Garlic hummus. Garlic bread. Garlic on top of a salad. Roasted garlic in my soup. Potatoes and garlic? Yes. Heck, I've even been known to add it to my green juice concoctions (much to the dismay of my husband — you'd think he was a vamp with as much as he hates it when I do that).
At any rate, it was rather difficult for me to pick out which garlic recipe I wanted to share, because, really, I would share them all. Even if that meant a shortage of garlic at the store. Don't worry, I grow my own. And I know some rather fine farmers around these parts who do a fine job growing it and wouldn't mind sharing.
But, in the end, I decided to share a garlic recipe that features kale. It's a side dish that uses two great spring finds. These two are perfect mild-weather companions, though you can enjoy it year-round, day-in and day-out.
Garlicky Kale
2 bunches of kale, de-stemmed and torn into small pieces
2 teaspoons coconut oil
1 to 2 tablespoons water
1 to 2 heaping tablespoons chopped garlic (5 to 9 cloves)
Salt, black pepper and red pepper to taste
Heat medium saucepan on medium heat. Once hot, add coconut oil. When the coconut oil is melted, add kale. Stir. Add 1 tablespoon of water and keeping stirring. If needed, add a second tablespoon of water. When the kale has turned bright green and wilted a bit, add garlic. Stir. When the kale has condensed down a bit more and the water has mostly evaporated, take off heat. Add salt, black pepper and red pepper to taste. Serve immediately. Serves 2 to 4.
Delicious
When we decided on garlic for our ingredient this month, I was a little paralyzed. Not because I didn't know what to do with garlic, but because there were too many choices. I use garlic, either fresh or ground, in almost everything I cook.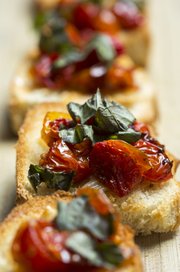 I decided I wanted something that really highlighted the best that garlic can be, and in my book, that's roasted. I went with something very simple that would allow the garlic to really show its amazing stuff. This little roasted garlic and tomato crostini is one of my go-to party snacks, but it is so easy to make that it also makes appearances at regular-old weeknight dinners and brunches and all kinds of places.
When summer finally comes and you have tomatoes in your garden, try this. I always grow some cherry tomatoes because they seem to be prolific and hard to kill, and they are perfect for roasting for recipes like this one. I also always grow fresh basil because it's another easy-to-maintain garden staple that can be used in all manner of dishes. It's nice to put together a recipe that just requires a trip out back for half the ingredients.
Roasted Garlic and Tomato Crostini
1 cup grape or cherry tomatoes, halved
2 heads of fresh garlic
2 tablespoons olive oil
2 tablespoons softened butter (or more olive oil will do)
Four or five large basil leaves
About 12 slices of baguette
Kosher salt
Cracked black pepper
Preheat your oven to 425 degrees. Line a baking dish with parchment or aluminum foil (you'll regret it if you don't — I promise).
Cut the top off your garlic bulbs, exposing the cloves inside. Place them and your tomatoes in the baking dish and drizzle with olive oil. Sprinkle with salt and pepper. Bake for about 30 minutes or until the tomatoes start to brown.
When the garlic and tomatoes have about 10 minutes left, slice your baguette into toasts and spread with a little butter or olive oil. Arrange them on a baking sheet and bake until they start to brown on top.
Remove everything from the oven and let it cool a bit. Then just use your fingers to pull the roasted cloves from the papery outside and squeeze the soft insides onto the crostinis. Put a few tomatoes atop the garlic. Chiffonade the basil leaves (just roll them up together and cut the roll into strips with a sharp knife) and top each toast with a few bits of basil. That's it!

Both garlic and tomatoes take on an entirely different flavor when they're roasted. The tomatoes are almost like candy. It's an improvement, if you ask me, upon traditional bruschetta, which is so good it's really hard to improve upon, so that's really saying something.