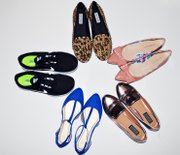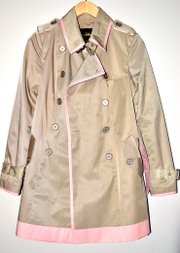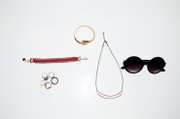 The long-awaited end of winter is over, and spring is finally here, which means we can now indulge in backyard barbecues, sporting events, outdoor weddings, and enjoy leisurely weekend strolls to the local farmers market.
There's no disputing the fact that we all have eventful social calendars where we spend the bulk of spring outside, so you'll want to be dressed to impress with the always-practical element in mind.
More often than not, the weather dictates your outfit, so always check it for yourself before walking out the door. There's nothing worse than being stylishly unprepared.
Here are some tips to keep in mind when attending your outdoor spring soirees.
Daytime activities like farmers' markets or sporting events are typical spring outings for most of us and comfort is key when it comes to what I'm wearing. Both usually involve a significant amount of walking, so leave your heels at home, ladies.
A flat-style shoe is your best bet. I love classic black-and-white sneakers, colorful flats or flat, strappy sandals. Crossbody bags are essential in any casual outdoor activity because you don't want to be carrying your bag in one hand and food or drinks in the other; that never ends well.
Being that these activities happen outside, you should without a doubt have your stylish shades on hand. One last suggestion would be to skip the chunky jewelry. I gravitate toward simple, delicate pieces that won't distract me when I'm on the go.
Evening events, like weddings, are much more formal, so break out the dresses and heels for these.
There are so many different styles of dresses out there, but I love the midi length right now. It's a modest and sleek look that's right in between the mini and maxi dress, and hits just below the knee. Because the hemline is longer, I would look for a sleeveless style because fashion is all about balance. Fit and flare dresses that are fitted on the top and flare out at the waistline are also one of my favorite styles this season.
Heels or wedges with a formal or elegant feel are perfect options for this type of occasion. This time of year, I like to bring a light jacket thanks to the always-changing and unpredictable Kansas weather.
A trench coat is the ideal jacket because it is a classic and will never go out of style. It's also lightweight, which is another reason to snag one for spring.

A wedding is a great excuse to accessorize with the gaudy jewels so you don't want to skimp on those.
Layer on the bracelets, rings and throw on a statement necklace to really make your outfit pop.
— Emily Kennedy is one-half of the stylish duo behind The Fashion Column blog she shares with her twin sister, Elizabeth. Emily can be reached at fashioncolumnblog@gmail.com.