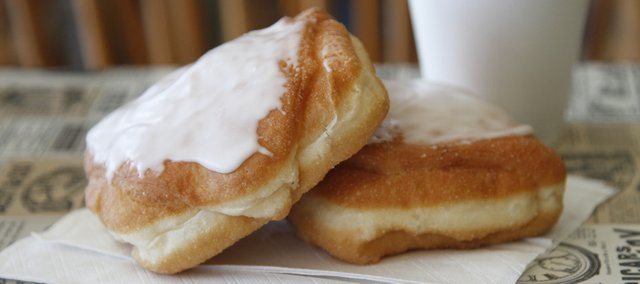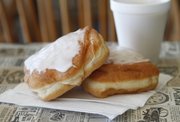 Warning: Munchers Cream Cheese Doughnuts are addictive and should be consumed with caution. To the many Lawrencians who already have fallen prey to their clutches, the Journal-World apologizes for the late warning. These palm-sized envelopes of golden pastry surround a soft, dreamy, cream cheese surprise, and a smear of glaze on top adds just enough sugar.
Ease of access to these doughnuts creates additional risk for relapse — Munchers is open 24 hours a day, seven days a week.
Where to get it: Munchers Bakery, 925 S. Iowa St., Suite M.
What you'll pay: $1.30 per doughnut (for a dozen, that'll be $15.60), cash or check only.
Try it with: Coffee.
Also on the menu: Other generously sized doughnuts like strawberry knots, blueberry fritters, chocolate croissants and cinnamon rolls, cookies, custom-decorated cakes and, during daylight hours, retired patrons talking about current events.
— Off The Beaten Plate highlights some of the more exotic, oddly named or inventively concocted (for better or worse) dishes from local menus. Know of an offbeat menu item we should check out? Email food and features reporter Sara Shepherd at sshepherd@ljworld.com. Tweet her at Twitter.com/KCSSara.