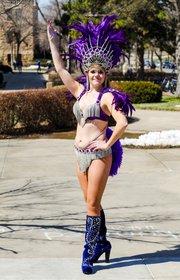 Age: 21
Relationship status: Taken
Hometown: Lawrence
Time in Lawrence: 21 years
Occupation: Student/commercial photography
Dream job: Anything in the marketing field that will let me travel back and forth to Latin America.
What were you doing when scouted: Promoting KU's Brazilian Student Association's Brazilian Carnival on Wescoe Beach.
Describe your style: I would say it's a Paraguayan twist on Brazilian Carnival.
Fashion trends you love: Summer dresses
Fashion trends you hate: Leggings as pants — I'm sure everybody says that — and gauge earrings.
Fashion influences: Things I see while I travel. Also, when you grow up in Lawrence, anyone you see walking down the sidewalk becomes a fashion influence. Lawrence is really a fashion-forward town.
What would you like to see more of in Lawrence: More international nightlife and coffee shops open all night.
Less of? Apartment buildings
Tattoos or piercings: Just my ears
Whom do people say you look like? In Latin American, from any guy, it's Marilyn Monroe, Alicia Silverstone and Nicole Kidman! Just because of my blond hair, they start naming any actress with blond hair!
What type of music do you unwind to: Bossa Nova and folk music.
Tell us a secret… I go through a pack of gum in 15 minutes.
More like this story on Lawrence.com