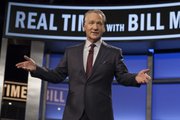 If you go
Bill Maher will appear at 8 p.m. Saturday at the Topeka Performing Arts Center, 214 S.E. Eighth Ave. in Topeka.
Tickets start at $48.50 and can be purchased through Ticketmaster, either online at ticketmaster.com or by phone at 800-745-3000.
More on Maher
• He's written four best sellers — "True Story," "Does Anybody Have a Problem with That? The Best of Politically Incorrect," "When You Ride Alone, You Ride with Bin Laden" and "New Rules: Polite Musings from a Timid Observer" — and most recently, "The New New Rules: A Funny Look at How Everybody but Me Has Their Head Up Their Ass."
• His 2008 documentary "Religulous" (rhymes with ridiculous) went on to become the seventh-highest-grossing documentary ever.
• He's received 23 Emmy nominations.
• He was born in New York City, raised in River Vale, N.J., and now lives in Los Angeles.
• He began his career as a standup comedian in 1979 and still performs at least 50 dates a year in Las Vegas and theaters nationwide.
Source: billmaher.com
Bill Maher is coming to Kansas this week. You know, the state where everyone thinks life begins at, "Hey, there's this guy I want you to meet."
The unequivocal liberal comedian and host of HBO's "Real Time with Bill Maher" had barbs at the ready when we interviewed him by phone from his Los Angeles office this week.
For a comedian like Maher, our fair — red — state has provided plenty of fodder over the years, some of which may work its way into his standup routine Saturday night at the Topeka Performing Arts Center.
It might surprise fans to know that Maher actually thinks conservative strongholds are some of the most fun places to perform.
"There's a lot of progressive, free-thinking people in even the reddest of the red states, so I think it's a bit of a celebration when someone comes to town who perhaps doesn't think like the majority," he says. "I think sometimes when folks are at my show they look around and they're like, 'Wow, I didn't realize there were this many people in this area who think like us!'"
The name of Maher's first television show, on Comedy Central/ABC from 1993 to 2002, summarizes his signature trait: "Politically Incorrect."
"Real Time with Bill Maher" is a hybrid comedy and talk show, featuring guest politicians, actors and authors with commentary flowing back and forth between serious and funny.
But Maher started as a standup comedian, and that's the show he takes on the road, performing at least 50 dates a year in Las Vegas and other venues nationwide.
America, Maher says, is overly sensitive, overly politically correct and overly conformist. Whether on his show or in his standup routines, calling it as he sees it takes priority over shielding people's feelings.
"I think what is more in short supply is the person who tells the truth," he says. "I'm never trying to hurt anybody's feelings. On the other hand you cannot tell the truth without doing that."
Comedians like Jerry Seinfeld can make the trivial funny, and do it brilliantly, Maher says. But even as a 25-year-old fledgling standup, Maher says, he was talking politics, religion, philosophy and other "big stuff."
"I think that's what makes me different than a lot of comics who are observational in nature," Maher says. "And I feel for them, because it's got to be a lot harder to come up with new material, whereas I get new material every day from what the clowns in Washington are doing."
Going on the road finds good fuel, too, he says. For a guy who's on HBO every week talking about — and to — America, seeing it is useful, even down to asking the person who picks him up at the airport or someone in the hotel bar what's going on.
"And very often that does make its way into my act," Maher says.
What does he expect to encounter in Topeka?
Well, for one, some "God hates Bill Maher" signs.
Westboro Baptist Church members have picketed his appearances hundreds of miles away, so Maher assumes they'll mobilize for his arrival in their hometown.
He saved their anti-Maher flier from last time, complete with a Photoshopped image of him praying to a devil-horned "beast Obama."
He also snapped a few pictures with the protestors, who didn't seem to protest that.
"It makes you wonder how serious they are about the whole thing," Maher says. "I mean, it's like, if you can put your arm around me and smile for the picture — I thought I was the Antichrist? It's like finding out Colonel Sanders doesn't eat the chicken."
More like this story on Lawrence.com