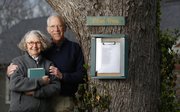 There are poetry posts, poetry poles and even poetry boxes, but Lawrence may be the only place in America that has a "Poet Tree" — a maple tree in the front yard of Joe and Vicki Douglas' home at 2804 Oxford Road.
Joe Douglas got the idea several years ago, while visiting his children in Portland, a city known for its poetry posts. "The poem was about a scene in the Scottish Islands, but the whole idea of the poetry post intrigued me," he said.
Almost immediately he thought about how he could bring the idea to his home and neighborhood where he and Vicki have lived for 30 years and raised their four children.
The biggest challenge for Douglas, who works as a psychiatrist at Bert Nash, was the construction and attachment of a box, similar to the repositories that hold real estate information, to the maple tree in his front yard. "I am not an incredible carpenter," he said.
"There was a problem with the first box," Vicki said. "It wept." (Wept: A poetic term for "leaked.")
Douglas worked out the kinks and, since January, the poet tree has been bringing poetry's power to entertain, enlighten and challenge all who happen by. Poems vary, from a piece by Allen Ginsberg about the Vietnam War to "Spider Works" by local poet Louie Galloway.
Douglas likes to alternate between pieces from local poets to those who are known nationally. Other guidelines: "I like to relate them to the seasons or to things going on in the world," he said. "I put up the Ginsberg poem to commemorate the 10th anniversary of the Iraq War, and it's just as pointed today as it was in the 1970s."
While Douglas says he personally hasn't written many poems, he did have one published in the Lawrence Journal-World sometime ago about raking leaves. "I'll put that one up next fall," he said.
Something else he considers before posting the poems? "I have to understand them," he said, with a laugh. "That eliminates a whole lot of poetry."
Keeping the poems accessible is important to Douglas because he realizes that people walking their dogs "don't always have time to unravel the meaning of a poem."
Actually, the first poem Douglas posted was about a dog. While they didn't get any specific response to that piece, they did notice the yellow snow. "We know someone stopped for a little while at the tree," Vicki said.
One day the Douglases found a sticky note on the box. "It was from someone thanking us for the tree," Vicki said. "It brightened our day!"
Someone else who appreciates the tree is neighbor Patricia Mayhew. "It made me smile," she said.
Mayhew remembers the first poem she encountered: "There were snowdrops blooming at the base of the tree," she said. "Beauty over beauty."
Since then, Mayhew has taken her granddaughters to visit the tree. "I walked with 6-year-old Allison so that she could check it out. She wanted me to read the poem aloud," Mayhew said. "It wasn't something she could understand, but she had the pleasure of being read to, of listening to the sound of the words, and of knowing that poetry is important enough to have a special tree."
More like this story on Lawrence.com