Wednesday, April 17, 2013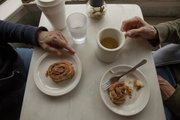 Sometimes you just need a little kitchen inspiration. You know those days: You stand in front of the open fridge like you expect something to dance, and you stare into cupboards as though trying to decipher the Rosetta Stone.
It was on one of those seek-and-find excursions that I hit upon these easy sweet rolls. Yogurt in the fridge? Meh. A can of pineapple? Whatever. Brown sugar and cinna- wait a minute! Further cupboard cruising yielded flour and baking powder, and there were butter and eggs aplenty in the refrigerator. The rest of the story fell into place as follows.
I melted four tablespoons of butter in a small saucepan, then whisked in one cup of low-fat vanilla yogurt and a beaten egg. Setting that aside, I measured three cups of bread flour into a large-ish mixing bowl. I added two teaspoons of baking powder, half a teaspoon of baking soda, and half a teaspoon of salt. Stir, stir, stir.
Once the dry ingredients were well mixed, I dumped in the dairy blend all at once and stirred it until the dough just held together. I turned the whole mess out onto a floured counter and kneaded it gently, about four or five times.
If you're playing along in your own kitchen, work quickly and with a light touch. Too much handling of the dough at this point will yield tough biscuits, which is about as much fun as it sounds. Don't wanna go there.
Once the dough was well-formed, I wrapped it in plastic and set it in the fridge to chill for a few minutes. In the meantime, I preheated to oven to 400 degrees, greased a 10-inch round cake pan, and set an 8-ounce can of crushed pineapple to drain.
In my favorite glass measuring cup, I melted two tablespoons of butter. On top of that, I dumped one packed cup of brown sugar, one half cup of white sugar, a teaspoon of cinnamon, and the reasonably dry pineapple. This got stirred into a funky-looking brown mush.
Back to the fridge for the dough, which was rolled out on that re-floured counter. A good-sized rectangle was the result, a quarter-inch thick and about twice as long as it was wide. I slathered the rectangle with the pineapple-sugar mix (I admit it; I reserved a spoonful or two to eat as-is because I love brown sugar and pineapple), leaving about an inch of clean space along one long edge.
Starting with the unclean long edge, I rolled up the rectangle into a log. Using a sharp knife and a few muttered threats, I cut the log into half-inch-wide slices. This was not the most mess-free job I've ever undertaken, lemme tell you, but I did manage to make my cuts and arrange the resulting "Do you call those round?" pieces in the cake pan.
Somewhere between 20 and 25 minutes later, I had my gooey rolls. Golden brown, no icing required.
Enjoy!