Wednesday, April 17, 2013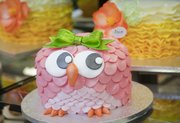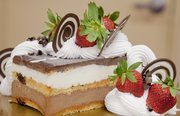 If you've ever walked by the cake display case at the Dillons at 4701 W. Sixth St., you may have been stunned by the detail and elegance of Kelli Coleman's cakes. On June 2, Coleman will take her talent to Orlando to compete in the International Dairy-Deli-Bakery Association's 18th Annual Cake Decorating Challenge.
It's so surreal," Coleman said. "I don't even feel like it's real. I was on vacation, and when I came back to work the whole store surprised me with flowers and balloons."
While working at Dairy Queen during her high school years, Coleman spent her breaks learning how to make flowers from the cake decorator. This simple interaction spawned her passion for decorating cakes.
Coleman began decorating cakes eight years ago. She attended Wilton Cake Decorating classes, but is largely self-taught. She has worked at Dillons for four-and-a-half years and participated in bridal shows and the annual Taste of Lawrence event.
"I'm so proud," said Jennifer Olson, the store manager at Dillons. "It is so exciting because anyone that orders a cake here knows how phenomenal she is. To be able to get this national recognition is very exciting."
"It's quite an accomplishment to be selected for this competition, so we couldn't be more excited for her," said Sheila Lowrie, the media relations manager for Dillons. "Many of our customers know Kelli, and they know of her talent, so hopefully this will bring some additional attention and focus to our store here in Lawrence."
Last Thanksgiving, Coleman decorated a cake to look like a cooked turkey. Its appearance was so meticulous that customers asked the employees why a turkey was mixed in with the cake display.
"The biggest compliment is when somebody doesn't know that it's a cake," Coleman said.
Coleman sent pictures of her many cakes to IDDBA in order to enter the contest. Of the 68 applicants that included pastry chefs and cake decorators from supermarkets across the U.S., Coleman was one of only three professionals selected to compete.
The competition is split into three days: on the first day, contestants will have five hours to fill a multi-layered, eight-foot-long display case with 15 to 25 cakes; on the second day, contestants have to decorate a wedding cake; and the third day is a themed cakes competition called Decorator's Choice.
Coleman joked and said she is preparing by not sleeping. But she will be spending a lot of time working on her speed and performance. Currently, she can decorate an extravagant-looking cake within a matter of a few minutes.
"I see things in a different way," Coleman said. "When I look at a box of Kleenex, I look at how to make that into a cake. I see things in 3-D."
Despite her passion for cakes, Coleman is actually more of a pie fan.
"I think it's just because I do cakes every day," she said.
With the competition a few months away, she is excited but nervous because of the constant flow of traffic that will be observing her.
"I work at Dillons and people walk by, and that's fine — but to be under the gun like that is kind of a lot of weight on your shoulders," she said. "Obviously I hope that I will get first, but even just to go is a huge honor."