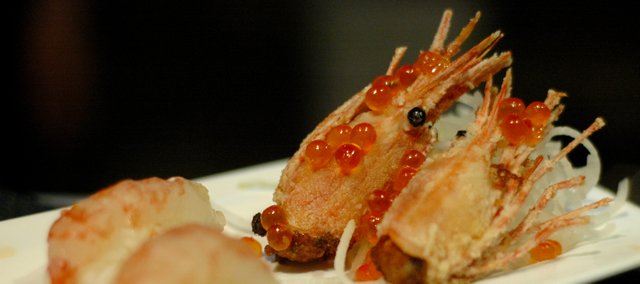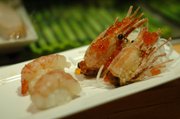 Order Ama Ebi, or raw sweet shrimp, from the nigiri sushi menu and you'll be served two raw shrimp tails (that do, in fact, taste mild and sweet) draped over ovals of sticky rice.
Next to those you'll get two fried shrimp heads perched on a nest of julienned daikon and garnished with a pinch of salmon roe. The heads aren't just for dramatic visual effect — you can eat them whole.
The shells and feelers are crunchy, like soft-shell crab, and the innards (whatever they are) are rich and savory.
Where to get it: Yokohama, 811 New Hampshire St. (also at 1730 W. 23rd St. location)
What you'll pay: $6.50
Try it with: Sake bombs?
Also on the menu: Sashimi boats, sushi rolls galore, noodle dishes and Korean specialties including chapchae, galbee, bulgogi and bibimbap. A popular appetizer is the Heart Attack — fried jalepeños stuffed with spicy tuna and cream cheese.
— Off The Beaten Plate highlights some of the more exotic, oddly named or inventively concocted (for better or worse) dishes from local menus. Know of an offbeat menu item we should check out? Email food and features reporter Sara Shepherd at sshepherd@ljworld.com. Tweet her at Twitter.com/KCSSara.