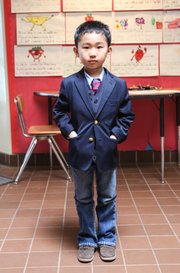 Name: Aidan Ayala
Age: 6
Relationship status: I have thousands of girlfriends and boyfriends!
Hometown: Seattle
Time in Lawrence: Since 2012
Favorite classes: Gym, art and music
Dream job: Soccer coach
What were you doing when scouted: Doing my math homework.
Describe your style: I like fancy and sports clothes.
Fashion trends you love: I think that's all.
Fashion trends you hate: I don't like old-fashioned clothes.
Fashion influences: I get my ideas from myself. My mom lets me choose sometimes.
What would you like to see more of in Lawrence: I like to see more fun stuff like video games and toys.
Less of? I wish there weren't so many bad guys.
Who do people say you look like? They say every time I wear this [outfit] at school they think I'm interviewing for a job.
What type of music do you unwind to: I like music that's new and cool.
Tell us a secret… I like to read now!