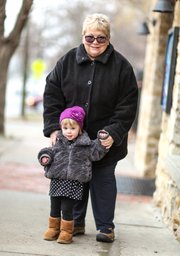 Name: Michele D'Enbeau (aka "Granny Nanny") and Roxy Konnoff
Roxy's age: 2
Roxy's relationship status: She is single and living with her parents.
Hometown: Roxy is a sunflower baby. She was born in Lawrence.
Roxy's dream job: She's undecided, but she is a wonderful talker.
What were you both doing when scouted: We were on our way to the library.
Describe Roxy's style: Roxy's style is eclectic. She likes to pick out her own clothes that are sent to her from all of her grandmas.
Fashion trends Roxy loves: When Roxy is not running around naked like most 2-year-olds like to do, she likes wearing skinny jeans and Ugg boots. She also likes T-shirts from the Dusty Bookshelf.
Fashion trends you hate: She doesn't like anything with advertisements on it, although she does like animal pictures.
Fashion influences: Roxy gets her fashion from her mother and, of course, I influenced her mother!
What would you think Roxy would like to see more of in Lawrence: It would be nice if there were a hairstyle place that catered to children; a place that welcomes them and has things like capes and chairs in the right size. Roxy also likes places like Laugh Out Loud Family Zone.
Less of? Nothing.
Who do people say Roxy looks like? When Roxy was born, she looked like Angelina Jolie because she had those big, beautiful, pouty lips.
What type of music does Roxy like: Folk music or rhythmic music that is geared toward learning to sing along like "Oh My Darling, Clementine."
Tell us a secret… Roxy has a sophisticated palate because of her parents. Roxy likes soft French cheeses, dill pickles, fish, sticky rice and edemame.
More like this story on Lawrence.com