Photo Gallery
20 years of the Lied Center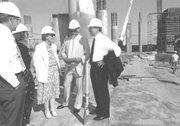 This year, the Lied Center is celebrating its 20th anniversary. Here's a look back at some of the performances over the years and its beginnings.
Season Announcement Party
Friends of the Lied are invited to the 20th anniversary Season Announcement Party at 7:30 p.m. Saturday at the Lied Center.
To become a Friend of the Lied, go online to lied.ku.edu or call 864-2788.
Memberships start at $50. Benefits include admission to special events and the ability to purchase performance tickets before they go on sale to the general public.
In the not-so-distant past, Deb Kraushaar had to hire off-duty school buses to transport elegantly dressed patrons of the arts up the hill from parking lots by Allen Fieldhouse to performances at Hoch Auditorium.
For shows she couldn't schedule in Hoch after it burned — and there were many — Kraushaar, secretary of Kansas University's Concert Series, juggled churches and other venues across town, and even Topeka. Not to mention stage equipment rentals.
In 1993, things changed in a huge way.
The Lied Center of Kansas opened, centralizing all of those acts and catapulting the performing arts scene in Lawrence.
The Lied, 1600 Stewart Ave. on Kansas University's West Campus, will announce its 20th anniversary season this week. Not only has the venue put Lawrence on the map as a regional destination for taking in national acts but it also continues to foster community engagement offstage.
"Lawrence would be a different place without this venue," executive director Tim Van Leer says. "It isn't just the 25 to 30 things we bring every year as much as it is the impact."
Moneywise, a 2001 Americans for the Arts economic impact study indicated that nonprofit arts organizations generate more than $33 million in revenue each year in Lawrence. Of those, Van Leer says, the Lied is at the top along with the Haskell Indian Art Market.
Culturally, the Lied serves as both stage and classroom.
Black-tie affair
On Sept. 28, 1993, the $14.3 million Lied Center opened to the public with an eight-show, six-day run of the Tony-award-winning musical "The Secret Garden."
Opening night was black tie. Patrons were dressed to the nines, posing for photos next to a little garden that had been constructed in the lobby. Kraushaar, now the Lied Center's accountant, recalls doing the best she could to accommodate requests from longtime series attendees to secure seats in the new venue in the same location as the ones they had in Hoch.
The Lied Center's concert series grew out of a KU performing arts series that had been going on more than a century. Most performances took place in old Hoch Auditorium, after it opened in 1927 until it burned after a lightning strike in 1991.
By that time, plans were already under way for the Lied Center — made all the more enticing after two years of squeezing shows into multiple other venues.
Ready for anything
In January 2002, Willie Nelson packed the house despite performing in the middle of one of the decade's worst ice storms.
The same year, the Flaming Lips launched beach balls into the audience while furries gyrated onstage when the band opened for Beck on the Lied Center stage.
The Lied's own concert series focuses on acts of a different nature, drawing operas like "Carmen," musicals like "The Music Man" and dance troupes like the Lyon Opera Ballet and Urban Tap, just to name a few from the early 2000s.
KU fraternities and sororities perform musicals at the Lied Center during the annual Rock Chalk Revue, and many a KU student has crossed the stage during graduation ceremonies for certain schools.
The Lied was purposely built to be multifunctional, able to accommodate everything from a 100-musician orchestra to a solo pianist, Van Leer says.
"It has the audience capacity and the production capacity for us to look at any type of production," he says.
In addition to the main auditorium, the building houses the Bales Organ Recital Hall and the Lied Center Pavilion, a multipurpose room suitable for small concerts or even activities or meetings.
Mission of engagement
The mission of the Lied Center is "to engage audiences and artists through presentation, education, research and service."
The Lied works with visiting artists to organize workshops, lectures and master classes for local artists. It also organizes education opportunities for the community, such as providing free school performances to more than 6,000 children last year.
That engagement is what Lied Foundation trustee Christina Hixson envisioned when she directed a $10 million donation to build the Lied Center.
Hixson, of Las Vegas, was the longtime professional assistant of businessman and KU alumnus Ernst Lied. She was left in charge of Lied's fortune when he died in 1980.
Hixson, who grew up poor without the opportunity to attend college or cultural events, used money to build the Lied Center of Nebraska in Lincoln and later the Lied Center at KU.
"The Lied Center's most important role is to acquaint individuals from all walks of life and cultural backgrounds with rich and diverse performing arts experiences," Hixson is quoted as saying in the Lied Center of Kansas' 10th anniversary book. "It assures access to world-class performances, especially for audiences who might not otherwise have this opportunity."
The perfect season
Booking a season at the Lied is an annual feat that begins the summer — or sometimes even years — before any acts appear onstage.
"There's always drama," Van Leer says. "The majority of it falls into place — it happens. Then there are others that, for one reason or another, are difficult."
Lied representatives like associate director Karen Christilles attend a regional booking conference in the fall and a national conference in New York after the holidays. Not unlike large trade shows, the events help connect venues with performers, whom they can see live.
Equally important, though, is keeping "feelers" out at all times, Christilles says.
Christilles said she recently booked a yet-to-be-announced performer that she'd seen in a New York club six years ago. She also makes a point to attend events in neighboring cities or states for opportunities to glimpse a potential Lied performer in action.
Those feelers come in handy for plugging holes in the schedule when other performers don't work out. They also ensure organizers keep an eye on performers and pluck them when they're perfectly ripe.
That could be right away, after years of developing as an artist — like the New York club performer — or when they fit the lineup the Lied has envisioned for a particular season.
Now, Van Leer says, leaders are formulating ideas for the Lied's 2014-15 season, even as the 2013-14 series has yet to be announced.
The schedule will be released Saturday night at the Friends of the Lied Season Announcement Party.
As a tease for the next lineup of shows, Van Leer cited a bride's saying — something old, something new, something borrowed, something blue. Expect this anniversary year to feature acts that celebrate the present, he says, but also pay tribute to the Lied Center's heritage.