The biggest piece of advice British musician Simon Green would give to aspiring Lawrence musicians is to "keep at it" if they want to make it in the industry.
Green, aka Bonobo, knows what he is talking about, defying the now common one-hit-wonder success story, and reaching the peak of his career by selling more than 150,000 copies of his fourth album, "Black Sands," in 2010.
He then went on to tour for more than a year, performing extended versions of the electronics, bass and drums. Now Bonobo is touring with his six-piece band to re-create the thematic, electronic-based melodies on "The North Borders," his 2013 album of instrumentals and vocal tracks featuring a variety of other artists. Bonobo performs at the Granada on April 24 at 8 p.m.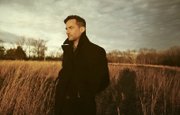 If you go
British DJ Bonobo will be performing at 8 p.m. Wednesday, April 24, at The Granada, 1020 Massachusetts St. Tickets cost $15.
Nadia Imafidon: You just released "The North Borders." What was it like completing your fifth studio album?
Bonobo: Starting a new record is kind of like looking off a mountain. I've done it four times before, but I had to remember how to do it. The main thing was making decisions about what kind of sounds I was going for. I think I picked up where I left off on "Black Sands" really.
Imafidon: How is it different from your previous albums?
Bonobo: This is more of a reflection of what I was listening to at the time. It's less jazzy live sounds and more electronic. The main difference would be that I explored a different style and a different palette of sounds.
Imafidon: On "Heaven for the Sinner" you feature R&B;/soul singer Erykah Badu. How did this collaboration happen?
Bonobo: I met her last year and we discovered pretty quickly that musically we had a lot of common ground. She had the idea that we should work together, so I started sending her music, and we both got into exchanging ideas back and forth. I've been a fan of hers for years.
Imafidon: You are known for unearthing new talent. Is this a goal of yours going into creating a new album?
Bonobo: I think it's more interesting. People get tired of hearing the same voice. If I hear a voice I like, I contact that person because I'd like to get an opportunity to work with them. That's what it comes down to.
Imafidon: What's the story on your stage name?
Bonobo: It was a long time ago. I was in a library looking at books and trying to figure out what I should call myself. I was looking at books about bonobos that day and it seemed like a good idea, I guess. I really didn't think it would come this far.
Imafidon: How would you describe your music? What is a live show like?
Bonobo: There are very different elements involved. I listen to hip-hop, but I also listen to song-based music, and I guess I'd say my music is electronic but it is sort of hard to put into terms. It's inspired by what I'm listening to. On the stage, the ideas can be explored further than in the studio. There is still some living, breathing development in the music.
Imafidon: Lawrence is full of aspiring local musicians. What would be your advice for them?
Bonobo: Take off and just do it. Speak to your own ideas.
More like this story on Lawrence.com