This month's Final Friday reminds us of the talented folk drawn to, and cultivated from, the Lawrence community — a population that is growing as witnessed by the grand opening of a new venue in the Warehouse Arts District, the Cider Building at 810 Pennsylvania St. The public is invited to the grand opening of the repurposed 1890s structure from 5-9 p.m., with music, guided tours and refreshments. The building features gallery and office space and a 9,000-square-foot event space.
Troy Moth at The Invisible Hand
Close by, The Invisible Hand Gallery, 846 Pennsylvania St., is exhibiting a show called Witness, featuring the works of renowned photographer Troy Moth. After spending nearly a decade as a commercial photographer for publications such as GQ, Rolling Stone and Vogue, Moth experienced an epiphany while on a photo shoot in India.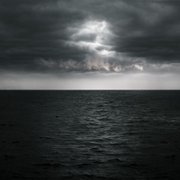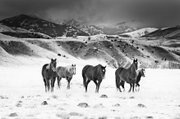 "I was on set and realized that I was in the spot that so many shooters dream of, but that it wasn't my dream, at least not anymore," he says in a statement.
He returned to his roots and began the next chapter in his career, shooting images of the natural world and the beauty of the remote Canadian wilderness where he spent his youth. His show includes photographs shot in total darkness, with the only light from the camera flash. The dramatic images represent Moth's position on the proposed pipeline that would transport oil from the Alberta tar sands through the pristine area of his childhood home. They "portray the mystical confrontation between nature's purity and the insidious global oil industry."
Moth will be in Lawrence through Wednesday. Visit the Invisible Hand website, invisiblehandgallery.com, for further details.
Kristen Martincic at Wonder Fair
Wonder Fair, at 803 Massachusetts St., is also featuring an artist with national reputation.
Kristen Martincic's show Surface Tension includes work from her skin suit series.
"I grew up swimming and have always been drawn to the sensation of being underwater," she writes in her artist statement. "Being submerged makes us consider our bodies in new ways and affects how we navigate through space."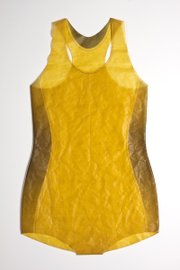 The mixed media prints explore the connection between body and water.
"The paper bathing suits I create recall a time when modesty required apparel to cover up more of the female figure. ...While it is generally acceptable to wear a bathing suit in public, being seen in underwear is taboo; however, both garments perform the same basic function..."
Martincic's distinctive style of layering fine paper such as onion skin and Japanese rice paper, as well as her technique of color washing over line drawings, simplify and compress the images and "invite the viewer to reconsider what lies beneath the surface of the familiar."
Lawrence Arts Center
The main gallery at the Lawrence Arts Center, 940 New Hampshire St., is filled with work from the next generation of artists. Dozens of selected pieces from the Lawrence school district's K-12 classes are on display.
More like this story on Lawrence.com