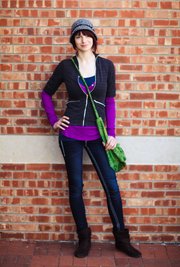 Name: Staci Smith
Age: 21
Hometown: Derby
Time in Lawrence: Four years
Occupation: I'm studying speech language, hearing and pathology.
Dream job: Brain research. I'm a nerd!
What were you doing when scouted: Walking to the bus.
Describe your style: My style is more edgy with lots of neon and blacks and whatever clothes I can find. I just put random things together that look cool.
Fashion trends you love: I like low-waisted skinny jeans and more slim-fitting clothes. I like buckles and zippers almost to the goth point but I try to stay away from that.
Fashion trends you hate: I don't like the really girly pink clothes and never wear sweats.
Fashion influences: I get my fashion influences mostly from the rave scene but toned down.
What would you like to see more of in Lawrence: I don't know. Lawrence is kind of awesome.
Less of? Nothing really.
Tattoos or piercings: Just ear piercings.
Whom do people say you look like? Audrey Hepburn
What type of music do you unwind to: Electronica, techno and indie rock
Tell us a secret… I watch a lot of anime.
More like this story on Lawrence.com