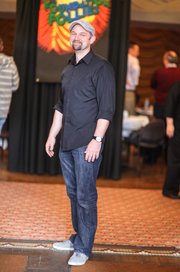 Name: Patrick Kelly
Age: 42
Relationship status: Married
Hometown: Long Beach, Calif.
Time in Lawrence: 24 years
Occupation: Educator
Dream job: I'm doing my dream job!
What were you doing when scouted: Getting ready for "Foundation Follies" variety show, which is a fundraiser held annually at Liberty Hall that raises money for the support of students, staff and programs of the Lawrence school district.
Describe your style: Middle-aged skater!
Fashion trends you love: I love Vans tennis shoes and West Coast surf and skater designs.
Fashion trends you hate: I don't like pajamas as everyday wear.
Fashion influences: Nowhere! I go to a store and buy what I like.
What would you like to see more of in Lawrence: More collaboration, communication and civility.
Less of? Personal attacks or closed-mindedness.
Tattoos or piercings: No
Who do people say you look like? I hope they say I look like Jason Statham, but I hear Louis C.K., which is not a good thing.
What type of music do you unwind to: I'm an ex-music teacher so I like it all, from jazz to classical. But for unwinding, I like surf punk and '80s ska as well as bands like Fall Out Boy and Green Day.
Tell us a secret… I can't give away secrets. I have maximum loyalty.
More like this story on Lawrence.com