No one expects a teacher to stand in front of an audience and flip the bird. But at a poetry slam, any form of self-expression is fair game.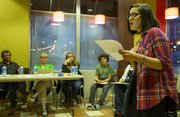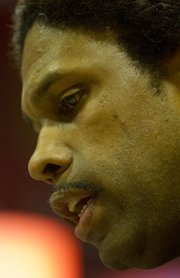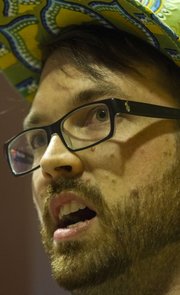 As Topeka High School special education teacher Nathan Burns-Sprung took the floor in at the current Lawrence Public Library, he channeled famous slam poet Taylor Mali. Performing the reactionary poem "What Teachers Make," Burns-Sprung addresses those who criticized teachers based on salary.
"I mean you're a teacher, Taylor," Burns-Sprung recites with a patronizing tone. "Be honest, what do you make?"
He then listed the critical differences teachers make in student lives.
"I make them understand that if you've got this [points at head], then you follow this [points at heart], and if someone tries to judge you by what you make, you give them this," Burns-Sprung says, as he gave the room of 30 teens and adults his middle finger.
To celebrate National Poetry Month, the Lawrence Public Library recently hosted its third annual poetry slam on April 17, welcoming anyone age 13 and up to perform poetry competitively. The first 10 people to show up secured a spot in the lineup and a chance to win local gift cards and the top prize, an iPad mini. Five judges, including Kansas University lecturer and local poet Mark Hennessy, scored the poets out of 10 points.
Burns-Sprung later performed an original comedic rap, encouraging students to improve math scores, playing hip-hop on his cellphone.
"I like writing things that will motivate my students," Burns-Sprung says. This was his first slam, and he walked away earning second place.
Similar to readings, participants in a slam employ literary devices to present their ideas artistically. In spoken word, however, the performance matters as much as the words. Burns-Sprung's approach was comedic, while others delivered theatrical monologues or percussive verses, or sang.
First-place winner and cook at Intorno, Patrick Stuart, didn't bother preparing poems. He'd open each by saying, "This is just freestyle off the top of my head."
Stuart moved seamlessly from rhythmic line to the next, weaving topics of love and religion into metaphors depicting the mechanics of jazz music. He has freestyled for 22 years.
"Poetry is just like jazz," Stuart says. "You cannot control it. You can't harness it. Once you speak it once, you can never speak it again. It's more spiritual than religious itself, and it's more necessary than the breath you breathe."
Event coordinator and librarian Karen Allen felt strongly about bringing the community together for another slam this year, despite the limited space.
"It was really great last year to see the connection between people who had never met before over poetry," Allen says.
Thirteen-year-old Lauren Brittain was the only teen who reached the final round, taking third in the competition.
While she appeared composed, waving her finger around sassily as she spoke about self-identity, Brittain admits she shakes every time. But that doesn't discourage her from returning — this was her third slam.
"I write poetry to express how much I love the world," Lauren says. "I feel like I need to get it all out and beautiful words are the best way to do it."
More like this story on Lawrence.com