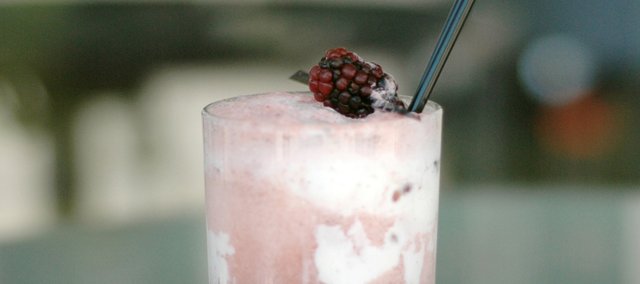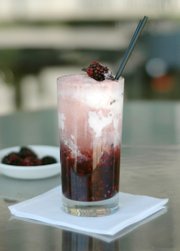 Everything about this drink says summertime. First, its name: the Float Trip. Second, its ingredients: fresh local blackberries (from Pestock Farms of Tonganoxie), a sweet apertif and ice cream. But even better than plain ice cream, this is Pachamama's much more interesting house-made fromage blanc ice cream — made with a soft, slightly sour French-style cheese not unlike crème fraîche. Finishing with soda gives the drink a fizzy pink top.
The hard stuff: Aperol, a rosy-orange-colored Italian apertif (which, at 11 percent alcohol, isn't really all that hard for a spirit).
Where it's served: Pachamama's, 800 New Hampshire St.
What it costs: $8
When it's on special: Happy Hour. The Float Trip and Pachamama's other specialty cocktails are $5 each from 5 to 6 p.m. every day the restaurant's open (Tuesday through Saturday).
Other libations at this location: The Agent Orange (vodka, ginger liqueur, carrot and orange), Whiskey in a Jar (Irish whiskey, black tea, soda and lemon), several cocktails made with fresh herbs, local craft beer and boutique wines.
— Drink up. Stay classy. Don't forget to tip your bartender. And let us know if you want to suggest a libation for this feature — email sshepherd@ljworld.com or Tweet her at Twitter.com/saramarieshep. Cheers.