When Art In Motion Dance Company performs its take on Grimm Brothers' "Snow White" on Friday, there won't be seven dwarves and Snow White won't be wearing a large gown like in Disney's version of the fairy tale. The performance is the company's own take of the well-known story, complete with modern music and costumes.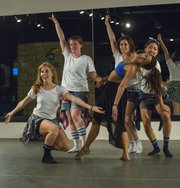 "It's edgy and we kind of make it our own show," said Julia Morgan, who is dancing the part of Snow White.
The show is the final installment of three short Grimm Brothers fairy tales that the Point B Dance company has performed this summer. The company, which dances a variety of jazz, hip-hop and contemporary, began learning each show less than a week before the performance.
Sunday, the company learned the choreography for the entire 30-minute show in just four hours.
"We put it together in six days, and that's the biggest challenge of it all," Morgan said. "It's hard to take in that choreography in such a short amount of time."
Director Cathy Patterson said that aside from the small amount of rehearsal time, the music used in the show is also what makes it unique.
"We take the basis of the story and then find songs and make it all fit together," Patterson said. "We create the scenes and then find a song to fit the scene."
Some of the songs in the show include "Play Hard" by David Guetta and "Alive" by Krewella.
"They're such old stories but all the music used in the shows is all stuff you'd hear on the radio," said Hannah Atwell, who plays a woods-person.
For the Grimm Brothers series, the shows are performed in the studio at 3300 Bob Billings Parkway, rather than at the Lawrence Arts Center where they typically dance. Chairs are lined against the edge of the dance floor for guests, and black curtains are pulled in front of the studio mirrors.
Patterson said they have had about 70 people come to each of the previous two performances, and because they are in the actual studio instead of onstage, it's a more personal experience for the audience and dancers.
Doors open for the show at 7:30 p.m. and the performance is scheduled to begin at 8 p.m. The studio is asking for a $5 donation, and after the show there will be refreshments.