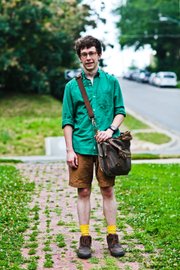 Name: Brendan Higginbottom

Age: 20
Relationship status: Single
Hometown: My dad is in the military so I really don't have a hometown.
Time in Lawrence: Two years
Occupation: I'm a student currently doing a double major in Chinese and English.
Dream job: Working as a translator; translating novels, poetry and stuff.
What were you doing when scouted? I was walking back from a coffee shop.
Describe your style: I don't pay attention to style. I don't have many clothes. I just go with what is practical and functional.
Fashion trends you love: Not really. I'm probably the wrong guy to ask about fashion and style!
Fashion trends you hate: There are no trends that really bother me. Whatever someone wants to wear is fine with me.
Fashion influences: I really don't know. I can't pin it down to anything. However, I do like button-up shirts.
What would you like to see more of in Lawrence? I don't know. That's a tough one!
Less of? Nothing comes to mind.
Tattoos or piercings: None
Whom do people say you look like? The actor that played Frodo [Elijah Wood in "The Lord of the Rings"]
What type of music do you unwind to? I listen to different things. But I've been listening to quite a bit of jazz lately.
Tell us a secret: I'm a pretty boring person but… I like ironing clothes!
More like this story on Lawrence.com