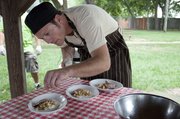 Eileen Horn was shuffling score sheets after the judges' last bites at the third annual Chefs Challenge Friday evening at the Douglas County Fair.
"They have never been this close," said Horn, the county sustainability coordinator, "and it looks like this was gut-wrenching for the judges."
The decision, that is — not the food. Three dishes, all jam-packed with locally sourced ingredients and bold but balanced flavors.
Whose would win?
First up, defending champ Wallace Cochran, food service manager at the Merc, used his 15 minutes to whip up lamb sausage, souvlaki-style — no casing, skewered and grilled — with a mile-long list of international herbs and spices. Skewers were criss-crossed over a smear of spicy harissa paste, molded stone-ground mustard potato salad and fresh greens with tomatoes and pita croutons, dressed in sumac pomegranate vinaigrette.
Local cherry on top: Iced tea, with sage and chocolate mint from Lulu's Garden of Baldwin City.
Next, 715 restaurant chef and co-owner Michael Beard with chimichurri-marinated seared and sliced leg of lamb over butter-poached potatoes, red and yellow tomatoes and Lebanese toum, a pungent lemon-garlic sauce.
Beard said he kept his dish simple — his trademark at the restaurant — and filled his presentation with cooking tips. Heavy cast iron skillets are best for a crisp sear; dissolving an anchovy (oily and salty, in a good way) with butter adds rich flavor to sauteed potatoes; maintain moisture by letting steak rest 10 minutes before slicing — that is, if you're not in a timed cooking contest.
Cherry on top: Joseph Hubbard the lamb rancher himself, imported all the way from Shannon Creek Ranch in Olsburg, to tell the crowd about his ranching practices and appreciation for connecting with customers through restaurants like 715.
Finally, chef T.K. Peterson of Merchants Pub and Plate, scheduled to open this month at 746 Massachusetts St. Peterson prepared cold-smoked and grilled chicken with creamy braised greens, tomato-chili jam and waffle chips made from 4-H potatoes.
Cherry on top: There was Boulevard beer in those greens. And the guy who grew them, Nicholas Gregory of Hundred Acre Farm in Ozawkie, came to talk about his sustainable organic farming practices.
Judges rated each chef on taste, creativity with local ingredients, presentation, execution, educational commentary and — the factor that may have pushed the winner over the edge — audience applause.
And the winner? Adding to the buzz surrounding his soon-to-open restaurant, Peterson was named this year's Chefs Challenge champion.
Chef Rick Martin, Douglas County Food Policy Council member and Just Food cooking teacher, said the cookoff aims to highlight different types of agriculture that Douglas County has to offer, this year including 4-H growers. He said the fair is a natural location and that local chefs are natural crowd-pleasers.
"People really like the star power, even if they're local and regional stars," Martin said. "It's a really quick connection with where our food comes from."