The summer after high school graduation can be a tough one. When that last bell rings and you realize you're filing out of school with all the people you grew up with for the very last time, it's a big moment. Some kids are relieved it's finally over, while others get teary-eyed and nostalgic before they're out the door. Lots of kids spend their summer working, saving up for college in the fall.
If you're recent Free State High School graduate Grace X. Oliver, you spend every single day of your summer writing, planning, casting, filming and editing your own TV miniseries.
"A Band Apart," an ambitious ensemble teen drama with mature content and no less than 15 major speaking roles, is an independent production in every sense of the word. The budget is zero. The crew is made of volunteers. Actors didn't just appear in front of the camera — on any given day they could be behind them too, doing whatever crew work was needed that particular day.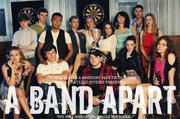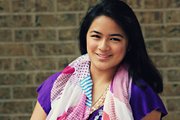 "This is the first time I've ever done anything with film, directing and working with actors. It's been a very eye-opening experience," says Oliver, who also adds that the "love and support" from cast, crew, friends and family has been "amazing."
Oliver's miniseries was originally hatched out of two high school activities: gymnastics and marching band. As gymnastics team manager for Free State and Lawrence High School her junior and senior years, Oliver would film the routines on a digital camera and taught herself the basics of editing while putting together an end-of-year video.
She wrote her first screenplay the summer after her sophomore year, but got the idea for a longer story later on. "A Band Apart" was originally going to be called "Marching Band," inspired by the drama that went on in the marching band clique itself.
Oliver expanded it, however, when she realized there were way more stories to tell about today's teenagers. Now the miniseries is set in 2016-2017, and follows the lives and relationships of 15 teenagers as political unrest looms and a new U.S. president takes office.
"When I read the script I loved that there were so many different kinds of lives being examined. Teenagers have to go through so much raw emotional (stuff) in high school, and I think this project exemplifies that in a way that is funny and dramatic and thought-provoking," says Kansas City resident Casey Scoggins, who plays Lily, a kind of older sister character to her high school friends. "We tend to pass off teenagers as just being hormonal or juvenile, and I hope people see 'A Band Apart' and gain insight into the fact that teenagers are just people dealing with a unique and strenuous set of problems."
With the support of LightLyre Studios in Lawrence, which lent equipment and expertise, and Kansas University film student Sam Callan, Oliver held open auditions, cast her show, and then reshuffled a good portion of the actors again right before filming. Balancing up to 45 different schedules can be hard on any first-time director, and Oliver credits the "seriousness and dedication" of everyone who helped her pull the project together, as well as the around the clock support she received from Callan.
Tapping area talent
The motley crew shot from May 18 through the end of June at locations like Perry-Lecompton High School, La Familia restaurant and the Social Services Thrift Shop in Lawrence, as well as several cast members' houses. July was spent shooting more pickups and putting together a rough cut of the pilot episode so the cast members who were going away to college could see something before they left.
Recent Kansas University graduate and Lawrence resident RJ Gutierrez, who plays Sonya, says that Oliver handled it all like a pro.
"I really want to say how great Grace has been though all this," Gutierrez says. "She's had so much to deal with — schedule conflicts, actors dropping last minute, rewrites, and scene changes that had to be made literally the night before filming. She handled it all pretty well and has been really amazing accommodating everyone."
Once all seven episodes of "A Band Apart" are completed, Oliver will conduct test screenings to tighten up the pacing and streamline the look of the show.
She hopes to secure an agent soon so she can sell the series to a production company or TV studio in hopes of getting the budget to do another season.
If that doesn't pan out, it may become a Web series. Oliver is taking a "gap year," as she describes it, off from school to edit and sell the series, but her other goal of spotlighting local talent and encouraging them to continue in film has already been met.
"I acted in high school and I hadn't realized just how much I missed it," says Jevan Bremby, who plays Will and will be a sophomore this fall in vocal performance at the University of Tulsa. "This project has reignited my love for acting and helped me to discover a new love for film and cinematography. I hope to do more films in the future because this has been a wonderful and educational experience all teens should try at least once."
Kansas City resident Erik J. Pratt, who is working on his own educational theater show and occasionally teaches acting and circus classes, portrays the music teacher in "A Band Apart." He echoes Oliver's admiration for the local talent involved and hopes the miniseries will help people understand the importance of funding arts education so more people like Oliver are inspired to tell their own unique stories.
"I hope that people can watch ['A Band Apart'] and appreciate that this was a project conceived and put together mostly by teenagers and that there is a lot of local talent to be nurtured," he says.
More like this story on Lawrence.com