I know, I know. The LAST article of clothing you probably think about as the Lawrence summer blisters the asphalt is a jacket. But just hang with me. A summer jacket — believe it or not — can be a lifesaver.
Just look at the last few weeks in Kansas. One day it's so hot and dry that you feel like you're baking and the next day it's pouring rain. I'm not expecting anyone to don a jacket during most of the dog days of summer.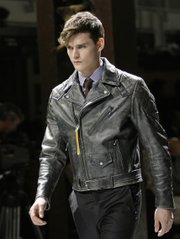 But those days where the sky is dumping water on you call for more than a newspaper over your head.
Given, an umbrella is a viable option for rainy weather, but jackets have their advantages as well. Just have an umbrella fold up and blow away from you once and you'll know what I mean.
For a different (and in my opinion more versatile) option, check out the many kinds of summer-weight jackets.
One of my best friends is an ardent outdoorsman and swears by his various jackets made out of high-grade, waterproof, breathable, man-made materials.
Often available in bright colors, these options from brands like Patagonia and Arc'teryx will cost you pretty dearly. Expect to pay around $300 at least. But you get what you pay for — these "shells" should last a long time and can cross over quite nicely from the street to the trail (especially if you're more of the outdoors type).
If you want to veer away from the more tech-oriented options, you can always go with tried-and-true waxed cotton jackets. Explorers, hunters and cowboys alike have been using waxed cotton for hundreds of years to battle the inclement weather in every climate zone.
As I detailed in a previous column, brands like Barbour and Belstaff have made their name by producing high-quality, hardwearing, breathable jackets inspired by the road and the trail. Often available in more muted colors such as green, beige, black and grey, a waxed cotton jacket is a more classically inspired option for your summer jacket.
Given, the options for summer jackets are almost endless, but just stick to a few points when looking for yours.
First, make sure your jacket is breathable (look for holes or zippers in the armpits).
Second, pay close attention to the weight — I'd go with a strong nylon or light (but durable) waxed cotton.
Finally, make sure it has a hood! This can make or break a summer jacket.
Of course, you don't have to wear your summer jacket only in the summer months. A good summer jacket should easily help you transition into the fall and spring months as the weather continues to sneak up on you.