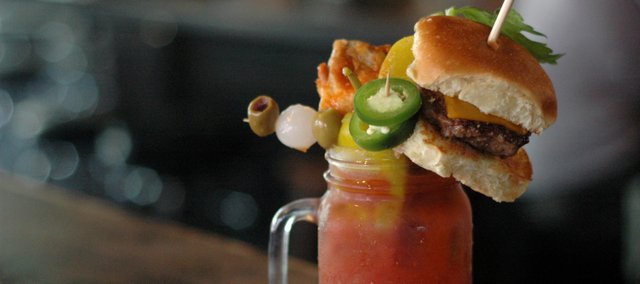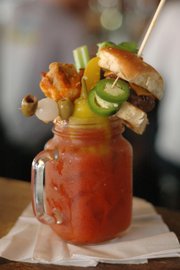 It's a cocktail! It's an appetizer! It's ... the Bloomin' Bloody Mary! This menu item is more powerful than a normal drink or sampler platter, able to fill multiple gastric needs in a single glass.
Yes, a drink with a small meal sticking out of it will turn heads at the bar. The drink part is a bloody mary in a jar. The food part — shooting out the top on an array of skewers — is a mini-cheeseburger, a chicken wing with hot sauce, a piece of bacon, a stalk of celery, a pickled banana pepper, olives, a cocktail onion, fresh jalepeño slices and a dill pickle spear.
Deciding whether this was "Off the Beaten Plate" or a "Lawrence Libation" was a tough call. But Dempsey's is billing it as an appetizer, so who are we to argue?
Where to get it: Dempsey's Burger Pub, 623 Vermont St.
What you'll pay: $12
Try it with: French fries. Also a straw, so you can sip on the drink part while nibbling the food part at your own pace.
Also on the menu: An array of full-size gourmet burgers, fish and chips, fries, wings and another new item that blurs the lines between bar and kitchen: Dempsey's Dirty Sunday — vanilla ice-cream with Guinness, house-made Irish cream, a sprinkling of cocoa powder and a cherry.
— Off The Beaten Plate highlights some of the more exotic, oddly named or inventively concocted dishes from local menus. Know of an offbeat item we should check out? Email food and features reporter Sara Shepherd at sshepherd@ljworld.com. Follow her at Twitter.com/saramarieshep.
More like this story on Lawrence.com