Hugo Vera wanted to give back.
"The city has a special place in my heart," says the Kansas University alumnus, who is beginning his fifth season with New York's Metropolitan Opera.
Vera, who received a master's and a doctoral degree in vocal performance from KU, was back in town one summer when he noticed a void in performing arts opportunities, particularly for classical music.
"Aside from the Arts Center's Summer Youth Theater and Theatre Lawrence's June musical, there wasn't a whole lot going on in the summer," he says.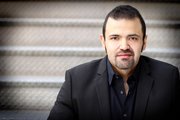 If you go
The Lawrence Opera Theatre's "Tales of Love, Forgiveness and Redemption" performances will be 7:30 p.m. Thursday and Saturday and 2:30 p.m. Sunday at the Lawrence Jewish Community Center, 917 Highland Drive.
Tickets are $15 for adults, $10 for students, and a season's pass of $35 covers all performances.
At 7:30 p.m. Friday, the group will present a free performance sampling their music at Signs of Life, 722 Massachusetts St. Pre-order tickets by calling 785-841-7636, visiting www.lawrencejcc.org or emailing ljcc@sunflower.com.
That's how Lawrence Opera Theatre (formerly Lawrence Opera Works) came about. The company is now in its fourth season, and Vera is very pleased about the mix of talent they've put together.
"Our youngest performer is 20 years old and has just finished his first year of studying voice at KU," he says. "Our oldest just retired after working for the Kansas City train system for 36 years. So we've got everyone from young vocal majors to train operators."
Indeed, one of the goals of the company is to integrate varying levels of experience to help performers grow and gain confidence.
Last year, Lawrence Opera Theatre began bringing in professional performers from across the company both to mentor the amateurs and to allow them some advance practice on material they would be singing in their own seasons.
"We've brought in people from San Francisco Conservatory, Westminster Choir College and Indiana University," he says. "Although I'd say 90 percent of our performers are from Kansas City, Lawrence and Topeka."
The group is presenting a series of performances around the theme "Tales of Love, Forgiveness and Redemption" from Thursday through Sunday.
With this year being the 100th anniversary of Benjamin Britten's birth and the 200th anniversary of Giuseppe Verdi's, Vera decided to frame Thursday's concert around their music. They'll be performing arias from 10 of Verdi's operas, including "La Traviata," "Rigoletto," and "Macbeth."
"It'll be an opportunity for audiences to get to hear live performances of some these famous pieces," Vera says.
Unlike Verdi, Britten wrote more than opera, composing folk songs, cabaret songs and oratorios. The company will present a wide selection of his music.
"He really ran the gamut of genres in which he composed," Vera says.
Saturday night's performance will be a cabaret of modern musical theater.
"We'll be singing selections from 'Rent,' 'Phantom of the Opera,' 'Les Misérables' and other musicals," he says.
Sunday afternoon, the company will present the rarely performed one-act opera by Claude Debussy, "L'enfant Prodigue" ("The Prodigal Son").
"I think it's safe to say this is the Kansas debut of that work," Vera says. "I've been doing a lot of research, and I can't find any evidence it was ever performed in the state."
The company will present a free sampling of everything they're doing at 7:30 p.m. Friday at Signs of Life, 722 Massachusetts St. The other performances will stage at the Lawrence Jewish Community Center, 917 Highland Drive. And that's another way Vera is trying to give back to the city he loves.
"Our artistic administrator, Rachel Black, is involved with the Jewish Community Center and knew they were looking for a fundraiser," he says. "So I thought this would be a good opportunity."
And that's what it's all about for Hugo Vera: Opportunity — for performers, for audiences, for Lawrence.