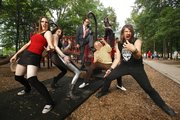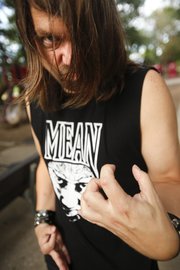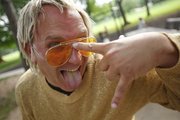 If there's one thing that doesn't belong in a winning air guitar routine, it's shame.
Leather loincloths, sequins, spandex and high-leg briefs with a lightning bolt codpiece highlight videos of air guitar powerhouses in action. There's hair thrashing, teeth gnashing, arm windmilling and gyrating. So. Much. Gyrating.
Ridiculous? Oh yeah.
"The key to all of it is that we're in on the joke," says Brian Reeves, a Mission air guitarist who performs in a suit and tie under the alter ego "The CorpAIRation." "The ridiculousness is what ends up making it be entertainment."
Reeves is one member of a delegation of area air guitarists headed to national competitions this month in Los Angeles.
Lawrence's Eric "Mean Melin" Melin — the Journal-World's movie critic and the drummer for local band the Dead Girls — is leading the pack. He won July's Northeast Regional Semifinals to secure a spot in the Aug. 17 U.S. Air Guitar National Finals, where he placed fourth last year.
On Aug. 15, the others will perform at the Dark Horse Wildcard Playoffs in hopes of winning a spot in this year's finals with Melin. Along with Reeves, they're JoJo "Air Jesus" Longbottom, of Lawrence; Nick "Peter Stiff Dickens" Colby, of Lawrence; Nielsen "Thunderball" Nacis, of Shawnee; Rachelle "Sonic Bitch" Landreth, of Shawnee; and Beth "Crystal Richter" Olson, of Kansas City, Mo. Lawrence's Cameron "Pork Sword" Hawk also was invited but can't make the trip.
'Airness'
Alongside shame, real guitars have no place in an air guitar routine, of course.
"Air guitar's kind of like an interpretive dance," Landreth says. "Since you don't have your real instrument, you have to be as entertaining as possible without anything for 60 seconds."
Lots of air guitarists play real guitar, which isn't necessary but can help in the "technical merit" category of scoring, which is corresponding air fretwork with the music. U.S. Air Guitar explains the second scoring category, stage presence, this way: "Anyone can do it in the privacy of their bedroom. Few have what it takes to rock a crowd of hundreds or even thousands — all without an instrument."
The third scoring category is where things get deep. It's "airness," defined as "the extent to which a performance transcends the imitation of a real guitar and becomes an art form in and of itself."
Personas in play
Reeves used to play guitar in a band and participated in debate, forensics and theater in high school. He doesn't have time for all that anymore, but "The CorpAIRation" ties all those loves together.
He takes the stage with his wife — the real thing, not an air wife — and waves to the crowd, plants campaign posters in the audience and hands out American flags. He launched a YouTube ad campaign before this year's Kansas City competition.
"Get behind the slick guy in the suit and tie! Support 'The CorpAIRation,' and support America!" the narrator cajoles as Reeves rocks out in front of Kansas City's J.C. Nichols fountain.
Melin's been air guitaring — the bedroom version — his whole life. It wasn't until he saw the movie "Air Guitar Nation" in 2009 that he realized doing it on stage in front of people was "a thing."
He went with a true alter ego for his persona. Everyone always commented on how smiley and nice he was, but his air guitar face was, well, mean (this year's routine includes a double flip-off — a real crowd-pleaser, he says). Bonus: 'Mean' also rhymes with his last name (which he'd like you to know isn't pronounced 'melon').
After entering and winning Kansas City's air guitar championship, Melin was hooked.
Kindred spirits
Melin has since recruited college bandmates and other friends.
"It spreads like a disease," he says.
Landreth said Melin invited her to a competition, explaining it was $10 to get in and watch or $20 to compete and get free beer all night, a no-brainer.
"Since then we've met a lot of really cool people, and it's a really close-knit community," she says.
Melin says air guitar is full of kindred spirits — typically the type who love B-movies, rock 'n' roll and warped humor. And, he says, there's something about sharing an activity as ridiculous as air guitar that brings people together.
"Most people think it's really cool and interesting because it's so strange," Melin says.
He adds that the people who disagree are often serious musicians — the kind that take themselves too seriously.
Apparently they're not in on the joke.
"When guitar players get threatened by air guitars," Melin says, "I find it hilarious."