Photo Gallery
Dancing with the Happy Time Squares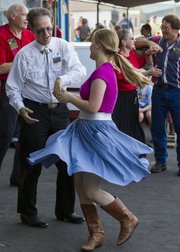 Lawrence's Happy Time Squares square dance club describes square dancing as fun and friendship set to music. Members are pictured during a dancing demonstration at the 2013 Douglas County Fair.
Learn to square dance
The Happy Time Squares annual fall square dance lessons begin Sept. 16 at Centenary United Methodist Church, 245 N. Fourth St. Lessons will take place each Monday from 7 to 9 p.m., and the first three are free. After completing the fall course, participants will be qualified to dance with any club in the country, or world.
For details, call Keith and Carol Noe at 785-887-6931 or Dave and Tonya Ketchum at 913-796-6284. Find the Happy Time Squares online at happytimesquares.com.
The club's annual Boots, Bows and Barbecue fundraising dance is set for Aug. 24 in Building 21 at the Douglas County Fairgrounds, 2120 Harper St. Dinner is from 5:30 to 6:30 p.m., with dancing from 7 to 10 p.m. Cost is $10 for dinner and dancing, $8 for dinner only and $4 for children younger than 10.
Heat from a sunny August day lingers in the air and emanates from the blacktop underfoot. The music is rollicking, requiring quick steps to keep up. Even in the shade of evening, sweat is rolling down temples and making blots on polo shirts.
But look at the clusters of faces as they spin back and forth, and one thing stands out: There's a big smile on every one.
That tends to happen when you square dance, say members of Lawrence's Happy Time Squares. With music, footwork and multiple partners to focus on, there's no room left for unhappy thoughts.
"I can't think about my bad day or boring job while I'm square dancing," Lawrence resident Wade Morrow says. "I'm a happy little camper."
Members of the Happy Time Squares gave an outdoor demonstration earlier this month at the Douglas County Fair. Their usual monthly dancing place, however, is inside the air-conditioned activity room at First United Methodist Church's West Campus, 867 U.S. Highway 40.
"We kind of consider it our date night," says member Betty Anderson, of Ottawa, who attends dances with her husband, Mike. "It's just good, clean fun."
Betty took up square dancing after meeting Mike 12 years ago. He'd been dancing avidly since college and told her she didn't HAVE to learn, but...
"Oh, gawd," she says. "I've had so much fun."
•••
The Happy Time Squares club has about 120 members, and monthly dances draw more than 100 people. Dancers from clubs in neighboring cities participate, and the most active Happy Time Square members commute to out-of-town dances, too.
Dave and Tonya Ketchum, of McLouth and Happy Time Squares co-presidents and co-founders, say there was a time when that wasn't the case.
Tonya Ketchum learned to square dance as a child, when Lawrence had not one but three active square dancing clubs, including one just for kids. Over time, leaders stepped down and all the clubs dissolved. Dancing with out-of-town clubs was their only option before the Ketchums established Happy Time Squares several years ago. 
Ketchum's parents, Bob and Rosalee Rainbolt, of Lawrence, are still dancing and were among members kicking up their heels at the fair.
"You meet the best people in the world," Rosalee says.
•••
Many dancers cite the same reason as the thing that keeps them coming back.
"Square dancing is kind of like a big, happy family," says caller Vic Perry, of Lawrence. "I know that sounds cheesy, but that's the truth."
Perry says — without being too nosy — members often check in with fellow dancers who miss an event to make sure they're OK. And over the years many dancers become fast friends.
He also would like the record to reflect that square dancing is for all ages.
"People have this stigma, mainly that it's for old people," Perry says. "And it's not."
Take Happy Time Square dancer Lydia Morrow — she's 13, just finished a five-day caller school in Minnesota and dances at annual national conventions, which feature a youth-only ball.
"It's full of energy," Lydia says. "And fun."
Granted, Lydia's father is Wade Morrow from above — himself a square dancer and caller known for incorporating pop hits into his routines (why shouldn't Lady Gaga and square dancing go together?). Her mother, Laura Morrow, also dances, and the family travels across the country to dance and call.
Camaraderie is everywhere they go.
"There's a saying that square dancing is friendship set to music," Laura Morrow says. "In hard times, they are there."
•••
In front of the bandstand at the fairgrounds, Perry announces to onlookers that they're about to see modern Western square dancing with a "singing caller." Along with calling out steps, he'll be singing songs.
"We don't dance to just country western, we dance to just about anything — except rap," Perry says. "We're not quite there yet, but we're working on it."
Soon, Perry is crooning a mix of country, blues and doo-wop, with lyrics modified precisely for the task at hand: "He made my baby fall in love with me — swing her around!"