Thursday, August 15, 2013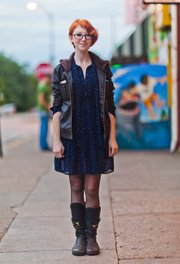 Name: Raven Oceana Harris-Keim
Age: 18
Relationship status: Single
Hometown: Lawrence
Occupation: Science-fiction writer
Dream job: Probably working toward being a freelance writer.
What were you doing when scouted? Drinking coffee
Describe your style: I usually don't dress up so it's kind of relaxed and fancy. I do like old-fashioned kinds of things like frilly dresses.
Fashion trends you love: Leather jackets and frilly dresses. I also like dresses with boots as opposed to high heels.
Fashion trends you hate: Sagging pants! I hate it!
Fashion influences: Usually from my friend, Hailey. Other than that, I look at other people's fashion in the street or Internet.
What would you like to see more of in Lawrence? More women wearing comfortable clothes. I also think people should wear more sweater vests. Let's bring that back.
Less of? Sagging pants and also the new hipster style that involves things like fake glasses or people trying too hard to be a certain way.

Tattoos or piercings: None
Whom do people say you look like? I usually don't get any remarks. I guess my dad, kind of.
What type of music do you unwind to? I like all different kinds of music but I like jazz or classical music when it's time to relax.
Tell us a secret: I secretly watch "Glee."
More like this story on Lawrence.com