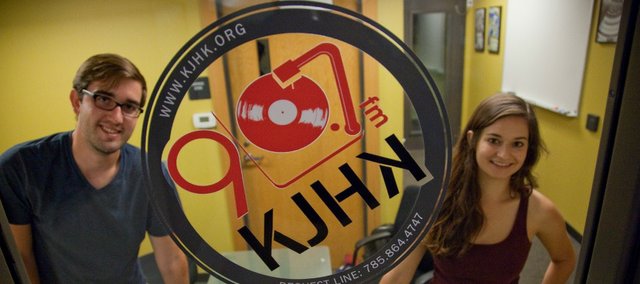 KJHK, Kansas University's student-run radio station, will be back on the air Aug. 26 — for good.
Thanks to the installation of new equipment, the station will be able play music and pre-recorded programming 24/7, even when students are on break.
That's just one of the many changes at the station in the three years since it moved from its longtime home at Sudler Annex, nicknamed "The Shack," to a state-of-the-art 1,400-square-foot studio in the Kansas Union. It allied with other organizations on campus to host events. It beefed up its online operations, starting with video and, later, an iPhone app. And it's all in the name of bringing in more listeners to the Lawrence institution, its student operators say.
Behind the mic with KJHK DJs
Katie Barrett
How long have you been with KJHK? Two years
What is your show and why did you pick that theme? Over the summer I hosted a ska program on KJHK called "Ska Is Not Dead." I chose to do a ska show because I absolutely love this genre of music but sometimes feel like I'm the only one who does! Through this show, I was able to spread my excitement about this music with listeners. I was also able to show other ska lovers that they are not alone!
Who is your radio hero? Orson Welles. That "War of the Worlds" broadcast showed how powerful the radio can be, and how to not abuse that power.
What is your favorite band? I have a handful of favorite bands, but if I had to pick, I would say Streetlight Manifesto!
What is your favorite song? "Do You Realize??" by The Flaming Lips. I have the title tattooed on my arm!
What makes KJHK unique? KJHK is unique because it allows for so much creativity with no judgement. It is a fabulous and supportive learning environment that really fosters confidence and friendship.
Vince Meserko
Year in school/major: Ph.D. student in communication studies
How long have you been with KJHK? Fall 2006
What is your show and why did you pick that theme? I do two shows: "Hickory Wind" and "The Jookhouse." "Hickory Wind" is an alt-country, folk, Americana, traditional country music show. I picked the theme because it's a convenient catch-all for most of the music I like. "The Jookhouse" specializes in blues, soul, and New Orleans R&B; music.
Who is your radio hero? Bill Shapiro, who hosts the show "Cyprus Avenue" on KCUR in Kansas City.
What is your favorite band? Not a band, but Bob Dylan and Otis Redding. Todd Snider and The Mother Hips are also favorites of mine.
What is your favorite song? "Oh! Sweet Nuthin'" by the Velvet Underground
What makes KJHK unique? Near-absolute freedom to play whatever I like. If people dig it, they'll let you know, and if not, you'll also know.
Kyle Stringer
Year in school/major: Senior in music therapy
How long have you been with KJHK? One Year
What is your show and why did you pick that theme? My show is called "For The Record," and it exclusively features vinyl. I picked that theme, because I have always loved the warm sound that vinyl brings to a recording. I believe vinyl is one of the best ways to hear music, and in the days of YouTube and pirated MP3s, I think it's important to remember that newer is not always better.
Who is your radio hero? DJ Modrey Hepburn, who DJs around town and was also on KJHK about six months ago. She played vinyl from the '50s and '60s, so she really inspired me to pick up where she left off.
What is your favorite band? The cool, the crazy, the fabulous: The Flaming Lips
What is your favorite song? "Feeling Yourself Disintegrate" by The Flaming Lips
What makes KJHK unique? KJHK is unique because, unlike commercial radio stations, each DJ can really play whatever they want (within FCC regulations of course). This means that every two hours, you can find something completely different on the same station. The other great thing about KJHK, is that you don't hear the same pop songs all day long — we leave that to other stations.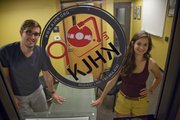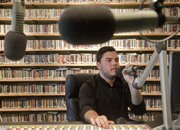 That bigger spotlight has allowed the station, 90.7 FM, to attract more advertising revenue and sponsors, which have, in turn, allowed it to invest more money in content, like when it sent staff to cover this year's Big 12 and NCAA basketball tournaments. It has also partnered with Student Union Activities to put on shows, including an upcoming performance of the all-girl rock band HAIM at the Granada on Oct. 10.
"We're more visible in the Union rather than tucked away in 'The Shack,'" says station manager Lucas Homer.
"We're more accessible now," adds development director Maranda Jones.
The move also enabled KJHK to change its personality. Claire McInerny, who was news director in the spring, said it has gone from a "grungy-alternative," counterculture bent to a more varied format, with music, film, news and sports.
"The identity has definitely changed," she says. "We're not just a music station."
"We're still edgy, but more mature," says Kaitlin Brennan, who managed the station last year.
On the news side, KJHK has done election specials, as well as long-form stories similar to National Public Radio's "This American Life." The station's work in this area hasn't gone unnoticed, as KJHK recently received 20 Kansas Association of Broadcasters awards, even though it has few journalism majors on staff.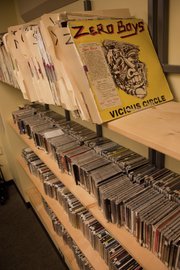 The station continues to play an eclectic selection of music. For proof of that, just look at its longtime morning staples: the smooth sounds of "Jazz in the Morning" followed by the pounding bass lines of "Breakfast for Beatlovers." Still, its music directors do have some standards. College radio, after all, does exist to tell you what's cool.
"We don't want to hear any Blues Traveler on KJHK," says programming director Matt Primovic.
"Or Nickelback," Homer adds.
KJHK has also had its own digital revolution in recent years. It now has a multimedia staff of nearly two dozen. It created an iPhone app after finding out that 30 percent of listeners were streaming the station using a mobile Apple device. Its sports talk shows will soon have a video element online, a la "The Dan Patrick Show" or "Mike & Mike." Its YouTube channel, which features videos of in-studio performances, has received tens of thousands of views.
Finally, the station plans to do a "30 Rock"-esque webisode series showing the semi-fictionalized goings-on behind the scenes at the station.
"It's meant to poke fun at ourselves and college radio in general and give a face to the people at KJHK," Homer says. "We don't take ourselves too seriously, because it is college radio."
More like this story on Lawrence.com