A defenseless feeling creeps over me when I get too far away from my camera gear for too long.
It's not as if I'm in a constant state of looking for something to photograph, but I get antsy when I want to shoot images and I don't have my usual assortment of lenses and equipment.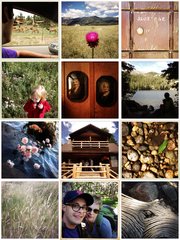 Vacations can be particularly trying times to temporarily part ways with the majority of one's gear. But occasionally imposing limitations to how you approach your craft such as using only one lens can help direct or even force creative results.
This summer, while loading up the car for a week in Estes Park, Colo., I initially set out with the intention of cramming my entire roller bag of gear into our Honda Fit. I even packed a tripod with high hopes of doing some long-exposure photography at night.
Before we set off, I decided I wanted sleep much more than starry, nighttime landscape photos so I ditched the tripod. Also, having second thoughts, I opted for a smaller and much more compact setup to fit some of my daughter's toys in the car and not just my own.
Ultimately, I decided to limit myself to one camera body, a wide-angle to mid-range zoom lens and my iPhone. My Canon 35mm digital would be used for the times when I really wanted to shoot pictures while having full control over the exposure and the iPhone would work great for everything else.
Mostly I kept the heavy stuff locked away at the cabin. Only on three occasions did I actually reach for my professional gear when I knew the richness of the experience and the light would be too nice to pass up.
One of those occasions was when my daughter and I went walking through the Moraine Park meadow with the wisps of tall grass swaying around her. This is not to say that one can't shoot such images with an iPhone; however, it lacks the quick control of exposure, focus and depth of field that you often need to succeed in capturing fleeting moments.
The iPhone did come with its own set of rewards. Hiking through the mountains with a sleepy, 25-pound child on your back can quickly wear you down. Dropping that extra camera weight and using the iPhone was necessary for the longer hikes. With the iPhone, I ended up shooting primarily with the Hipstamatic app for the contrasting images that it produces and also for the non-traditional square format. I created little vignette-style images from the trip with the intent of stacking them together in one file.
With this approach, I could allow the detailed images to play a part with the wider environmental shots to give a broader presentation of our experience. This way, the scores of people lining up to see my family's vacation photos could get it all in one fell swoop.
More like this story on Lawrence.com