Minutes after purchasing my last-minute flight to Oulu, Finland, on Monday to try to qualify for the World Air Guitar Championships, I walked from work to a nearby Jimmy John's and ordered a Turkey Tom and a bag of chips. The total was $6.66.
Surely it was an omen. In the world of competitive air guitar, that's more than just the devil's number — it's a perfect score.
Two nights before at a screaming, rowdy House of Blues on the Sunset Strip in Los Angeles, I had missed getting a perfect 6/6/6 at the US Air Guitar Championships by one-tenth of a point. Celebrity judge Kristen Schaal from "The Daily Show" and "30 Rock" — one of three judges that night — gave me a 5.9. One-tenth of a point was the margin by which I lost the title of Best Air Guitarist in America to San Diego powerhouse Lt. Facemelter.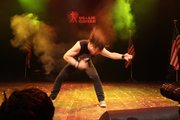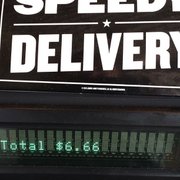 For the last five years on the US Air Guitar circuit — yes, an organization actually exists to crown one champion each year and fly them to Finland to represent America in the Worlds — I have been known as Mean Melin. I've competed in five consecutive National Championships, and last Saturday night's score of 6.0/6.0/5.9 was the closest I've come to air guitar perfection.
Of course, air guitar perfection is an arbitrary thing, but the guidelines set out by the Finns are simple: The judges are looking for a combination of technical ability, stage presence, and airness in a one-minute routine set to prerecorded music. To achieve maximum airness, a performance must transcend the simple mimicking of someone playing the guitar and become something unto itself — a piece of performance art that makes the audience scream with glee.
In past years, I've built routines around Queen, Megadeth, Slayer and Van Halen tunes, but this year, I collaborated with my friend Doug Minner, who is an amazing "there" guitarist. We wrote and recorded an original one-minute tune called "Wankery" that would strategically match up to some "air moves" I've been fantasizing about pulling off — such as throwing the air guitar around my back and catching it, and miming some reverse air guitar as the record stops and suddenly plays backward.
The first-round routine is what the average air guitarist spends 90 percent of their time in the offseason obsessing over. (The second round is a song of the organizer's choosing with competitors improvising on the spot.) I had the concept of "Wankery" in mind ever since my one-minute edit of "Bohemian Rhapsody" let me down at the Chicago Nationals in 2011. (It could actually have been my disturbing porn-star moustache and white tearaway pants that actually did me in.) That was also the year that I learned that picking a popular song doesn't necessarily help you all that much.
Almost immediately after the crushing .1 point loss last Saturday, Facemelter (real name Jason Farnan) insisted that I go to Finand anyway. He'd be going as the U.S. champ, of course, but the Dark Horse competition that takes place the night before the World Championship offers one last-ditch effort for enthusiasts like myself to get placed into the Big Show. I called home to Lawrence, and my patient, kind girlfriend immediately suggested the same thing.
How a sleepy town in Finland came to be the home of the most ridiculously addictive and most-derided "sport" is beyond me, but I know it holds particular appeal for those who can't stand still when they listen to rock 'n' roll. I've bonded with over a hundred new friends all over the country in the last five years and I can't wait to meet the air guitar champions flying in this year from Japan, France, Australia, the U.K. — and even Kazakhstan.

There's also something addictive about hope: It keeps you going.
In L.A., it was a bitter pill to swallow: not just that I had lost, but that all the hard work and anticipation throughout the season was suddenly over. With the Air Guitar World Championship on the immediate horizon, that hope has been extended one more weekend. I know I'm a long shot to qualify — that's why it's called the Dark Horse — but I have to give it a try. For the first time in four years I won't be glued to my computer over my lunch break watching a live stream of the AGWC in Finland, I'll be there in the flesh. And I might even be performing.
That cash register at Jimmy Johns was trying to tell me something — I'm sure of it.
Editor's Note: Eric finished in first place at the dark horse competition at the Air Guitar World Championship and is competiting in the championships today.
— Eric is a longtime Lawrence.com/Journal-World entertainment writer. He's also the editor-in-chief of Scene-Stealers and on-air film critic for KCTV5. On the air-guitar circuit, he goes by the name Mean Melin. Eric goes to 11.