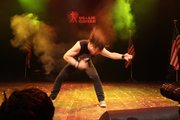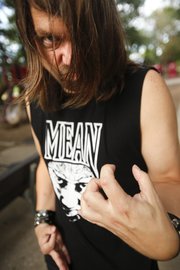 Top 10
The top-10 finishers at the 2013 World Air Guitar Championships in Oulu, Finland:
Eric "Mean Melin" Melin (US)
Doug "The Thunder" Stroock (US)
Thom "W!ld Th!ng 37" Wilding (UK)
Justin "Nordic Thunder" Howard (US)
Jason "Lt. Facemelter" Farnan (US)
Kereel "Your Daddy" Blumenkrants (RU)
Emmanuelle "Miss Issipy" Stempniakowski (BE)
6
Mitsuaki "Inogami Koushou" Inoue (JP)
Georgi "Photo" Nikolov (BG)
Corentin "Airgus" Fermont (BE)
Source: airguitarworldchampionships.com
Eric "Mean Melin" Melin booked a last-minute flight to Finland on a prayer — make that an air prayer.
And the air guitar gods must have heard it. Lawrence's meanest air guitar-playing machine became the newest World Air Guitar Champion today.
After coming in second at the U.S. Air Guitar National Finals Saturday in Los Angeles, Melin hadn't actually qualified to compete at the World Air Guitar Championships in Oulu, Finland.
But, fortunately for Melin, in the sport-slash-performance-art known as air guitar, there's this little thing called a Dark Horse round. (Of course.)
This qualifying event on the eve of the championship offered a way into the finals for its top finishers. Melin knew it was a long shot, but felt like he had to go for it.
"There's also something addictive about hope," Melin wrote this week in a column for Lawrence.com. "It keeps you going."
With a little funding from "Mean Melin" T-shirts that supporters have been buying online, and encouragement from his girlfriend and other air guitar players — including San Diego's Jason "Lt. Facemelter" Farnan, who edged him out for the U.S. title — Melin jetted to Finland.
He won the Dark Horse round. And today, despite having a lousy second slot in the playing order, he riffed and thrashed his way past 16 other competitors from Europe to Japan to win the world championship.
"I have no idea what I did to win except put my heart and soul into every moment on stage," Melin wrote in an email shortly after today's victory. "And I think that the crowd might have been able to feel that, and knew that air guitar is in my blood and not just some silly throwaway thing."
This was supposed to be Melin's last year competing in air guitar. He'd played at the U.S. finals four previous years without a victory — which, he said in an interview earlier this month, seemed like a sign it might be time to hang up his virtual guitar.
Looking to make the most of his presumed swan song, Melin started planning his routine way back in November. While most air guitar players play along with tracks from known artists, Melin — the drummer for local band the Dead Girls, and also the Journal-World's movie critic — composed and recorded his own music with help from a friend.
It all paid off, and it looks like this year won't be his last performance after all.
"I have to come back and defend the title next year here in Finland," Melin said, "which is insane."