Wednesday, August 28, 2013
My husband made the mistake of turning me loose in a baker's supply house recently, and I learned a couple of important truths.
First off, I am not to be trusted in the self-control department when bakeware is involved. Second, the edges of a cream horn mold are really sharp; I earned myself a finger slice while I was washing the darned things.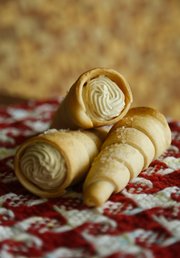 Undaunted (and craving pastry), I decided to give the molds a trial run. Since the nearest batch of frozen phyllo dough is 30 miles away, and since I wasn't in the mood to mess with puff pastry, I went with pie crust dough.
And yes, I totally cheated and used the pre-made stuff from the fridge. If you're following a special diet, or have some time on your hands, you can easily substitute your favorite crust recipe here. Whichever kind you go with, roll it out nice and thin, just as you would for a pie. Cut the dough into strips, about 3/4 inch wide. Fire up your oven to 425 degrees.
Brush one strip with water (both sides) and carefully wind it around the cream horn mold, starting at the point. Overlap the edges as you roll; you may need to add part of another dough strip to complete the horn. My cream horn set included six molds, which used half a package of pie crust dough.
Arrange the now-covered molds on an ungreased cookie sheet. Brush them with water or an egg wash and sprinkle the tops with coarse sugar. Bake them for 12 minutes, or until they start to turn a nice, golden brown. Let the horns cool for a few minutes, and then carefully remove the metal molds. While the horns finish cooling, you can cut, wrap and bake the remaining dough.
OK, now it's time to put the cream in the cream horns! Just before serving time, spoon 5 tablespoons of seedless raspberry jam into your stand mixer bowl. Add 2 cups of very cold heavy whipping cream and blend at medium speed until it starts to thicken. Sprinkle in half of a small box of vanilla or cheesecake-flavored instant pudding mix and beat until stiff peaks form, scraping the bowl frequently.
If you have cake-decorating equipment handy, fit a pastry bag with a star tip and fill it with the raspberry cream. If you haven't got such a thing, spoon the cream into a heavy-duty zipper baggie and cut off a small corner. Fill the horns with the cream, and then decide if you want to eat the leftovers with a spoon or make more horns. These will keep for a few hours in the fridge, but don't wait too long. A soggy cream horn is not a happy cream horn.
You can get creative with flavor combos in this recipe. Try chocolate pudding and cherry preserves, or white chocolate with apricot, or drizzle the horns with chocolate sauce or lemon curd.
Enjoy!