This Friday marks the third anniversary of Final Fridays, and there's a lot going on to mark the occasion, including several new venues and a couple of special guests.

At 5 p.m., Kansas University Professor Barb Kerr will be hosting a welcome back reception for students and faculty in engineering, art, architecture and design at Lawrence's Makerspace. Lawrence's Makerspace, at Ninth and New Jersey streets and home of the Lawrence Art Party, is a collaborative space and community where artists, hobbyists and entrepreneurs can collaborate.
In addition to a tour of the space, Kerr will talk about how participating in a Makerspace can encourage creativity and entrepreneurship.
"I'll be talking about STEM to STEAM, how integrating science, technology, engineering, arts and math is the key to future careers," she says.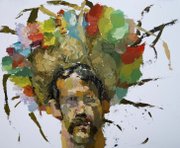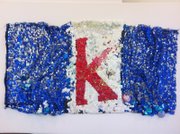 Another special Final Fridays guest is travel blogger Jenni Harrison, who is visiting as a part of the Kansas Department of Wildlife, Parks and Tourism's Faces and Places program. Harrison is part of a summer road trip to promote Kansas communities, attractions and events, and she will take photos and shoot videos throughout the evening to share on Facebook, Twitter and other social networks.
Several new venues are also opening, including Phoenix Gallery Underground, 825 Massachusetts St., a fine arts venue beneath the well-known gallery. This month's show features two artists, Allan Chow and Michael McCaffrey. Chow, also known as the palette knife painter, is known for his vibrant still lifes and landscapes.
Lawrence native McCaffrey is showing a collection of paintings that are more personal and represent people and events important to his life.
"I have a strong sense of nostalgia and wonder for the memories, places, objects and people that make up my life as they evoke inspiration within me," he writes in his artist statement. "Recently, loss has propelled me to investigate the places, items, and people that are closest to me."
Another artist that is allowing a more personal glimpse into her personal life is Kristin Morland, who is opening her home at 737 Connecticut St. From 5 p.m. from 9 p.m., Morland will show some of her most recent works, a series of beaded flags in which she has deconstructed the stars and strips.
"We are trying to open our house more often to Final Fridays," Morland says. "Sometimes (my work) is framed and out the door so fast I don't feel like I got a chance to really look at and live with it."
Another different venue Friday night is the Family Promise Day Center, 905 Tennessee St. Dana Ortiz, executive director of Family Promise, is excited about the opportunity to thank the community for its support of the agency.
"We will have artwork from Heather Duris and pieces from the members of a missional community from Vintage Church, who are also supplying refreshments," she says.
Several venues are focusing on the recent 150th anniversary of Quantrill's Raid.
Watkins Community Museum of History and the Percolator, 913 Rhode Island St., have asked Lawrence artists and residents to share their thoughts about the raid and its impact on the town's character.
Quilter and historian Marla Jackson, from Marla's Quilts, 720 E. Ninth St. No. 2, is exhibiting her latest quilt, "Still We Rise," a piece she created over the summer with a half-dozen teens.

K.T. Walsh is unveiling her most recent mural at the north entrance of Poehler Lofts, 619 E. Eighth St., which focuses on the Poehler family. Walsh be at the site to meet the public and answer questions about the work.
The Cider Gallery, 810 Pennsylvania St., also in the warehouse arts district, will use Final Fridays to feature its most recent acquisition, a 1977 print by pop artist Andy Warhol. Also on display are photographs by Tim Forcade and paintings by Majo.
In addition to all the visual artists showcasing their work Friday will be several musicians. Five Bar and Tables, 947 Massachusetts St., and the Family Promise Day House will host musicians, and bluegrass singer Tyler Gregory will perform from 6 p.m. to 8:30 p.m. at Ninth and Massachusetts streets. In the warehouse district, Jim Krsnich and JC Deleon will perform from 6 p.m. to 8 p.m. at the Cider House Gallery. Beginning at 8 p.m., The Harrisonics and Paper Buffalo, voted best new band in this year's Best of Lawrence competition, will give a free outdoor concert in the parking lot south of Poehler Lofts.